Boxing federation chief praises Azerbaijani athletes' success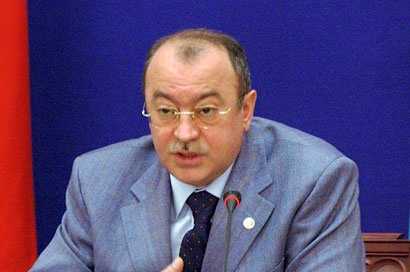 By Nazrin Gadimova
President of the Azerbaijan Boxing Federation has met with members of the national team and winners of the World Cup held in Kazakhstan this month.
Kamaladdin Heydarov also met with other boxers who distinguished themselves by their wins this year.
Speaking at the meeting, Heydarov said Azerbaijan's boxing team returned from the World Cup with great wins and the team's success is the result of state care for sports in Azerbaijan.
"Whereas at the World Cup held in Baku in 2011 our team won one gold medal and one silver medal, they returned from Almaty with two gold medals and one bronze medal," Heydarov said. "This is the result of the policies pursued in Azerbaijan by President Ilham Aliyev for many years in the field of youth and sports."
"Previously, not just boxers but also other athletes did not have the necessary facilities for training. But today, everywhere in the country Olympic and other sports facilities are being built. This is one of Azerbaijan's achievements," he added.
Heydarov praised the success of Azerbaijani boxers as well as the role of coaches in their accomplishments.
The International Boxing Association's World Cupwas held in Almaty, Kazakhstan on October 14-26. 600 boxers from 114 countries participated in the world championship, which was held for the first time under the new rules of the International Boxing Association, without helmets.
Azerbaijani athlete Javid Chalabiyev beat Russia's Vladimir Nikitin in the 56 kg final and became the world champion. Another Azerbaijani boxer, Mahammadrasul Majidov (over 91 kg), knocked out his opponent in the 3rd round and won the gold medal.