Azerbaijani Paralympic athletes to compete in European shooting champ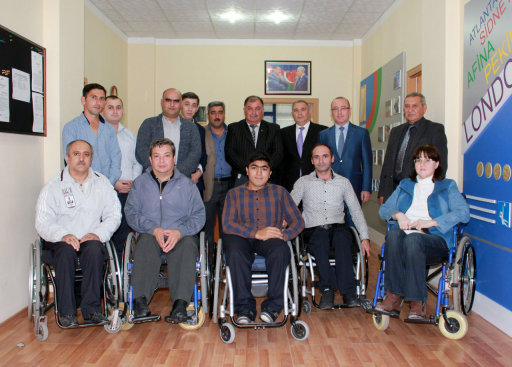 By Nigar Orujova
Azerbaijani Paralympic athletes will participate in the European Shooting Championships, which will be held in Alicante, Spain, on October 18-25, the National Paralympic Committee said.
The team includes Elena Taranova, Akper Muradov, Elshad Mammadov and Kamran Zeynalov, who will compete in the shooting at a distance of 10, 25 and 50 meters.
This major competition, being held before the World Cup 2014, will be joined by 170 athletes from 30 countries, including 21 medalists of the London 2012 Paralympic Games.
Meeting with the athletes, the Paralympic committee president Ilgar Rahimov enquired about their physical and psychological condition, gave them his advice and wished success.
Earlier, a strategic action plan for the National Paralympic Committee for 2013-2016 was approved to prepare for the 2016 Rio de Janeiro Summer Paralympics.
The plan includes expansion of the Paralympic movement in all regions of the country, the development of professional disabled sport, expansion of relations with international sports organizations, and involvement of disabled children in sports.
Azerbaijani athletes achieved great success at the summer 2012 Paralympic Games in London, gaining 12 medals and becoming 27th out of a total of 166 countries. At the Paralympic Games in Beijing in 2008, Azerbaijan won 10 medals, ranking 37th.
Currently Azerbaijani Paralympic athletes take part in competitions in 11 sports.