Obama says Western sanctions against Russia should be kept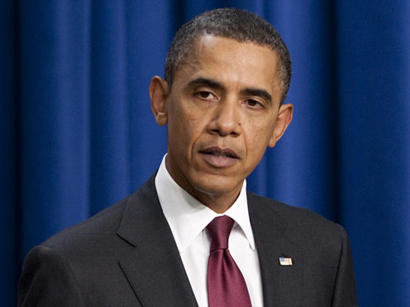 Washington and Brussels agree that the Western sanctions against Russia should be maintained until the obligations under the Minsk deal on the Ukrainian reconciliation are fulfilled.
U.S. President Barack Obama made the remark while addressing a press-conference ahead of the NATO Warsaw summit on July 8, Sputnik reported.
"We continue to support Ukraine as it undertakes important political and economic reforms. The US and the EU are united in our commitment to maintaining sanctions on Russia until they fully implement its obligations under the Minsk agreement," Obama said.
Brussels, Washington and their allies introduced several rounds of anti-Russia sanctions in 2014 over Moscow's alleged involvement in the Ukrainian conflict. Russia has repeatedly refuted the allegations, warning that the Western sanctions are counterproductive and undermine global stability.
NATO Secretary General Jens Stoltenberg, talking to reporters on July 8, also stated that the positions of the EU and NATO coincide on Russia, RIA Novosti reported.
"We have a common position on Russia: EU imposed economic sanctions, NATO conducted the biggest tightening of collective defense after the end of the" Cold War "," said Stoltenberg after the signing of the joint declaration on relations between the EU and NATO.
---
Follow us on Twitter @AzerNewsAz