Kazakhstan budget may forfeit from $5 billion in revenues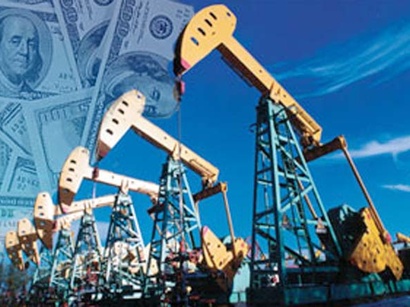 By Sara Rajabova
Central Asia's biggest economy, Kazakhstan may lose about $5.1 billion in revenues if global oil prices stay at $50 per barrel.
The state budget revenues of Kazakhstan will be nearly one trillion tenge short of target in 2015 if oil prices remain at $50 per barrel, warned country's national economy minister.
Yerbolat Dossayev spoke about the baseline scenario for global oil prices of $50 per barrel in 2015-2017 and $60 per barrel in 2018-2019, Tengrinews reported.
"Amid the lowered forecasts on GDP and imports, and with the oil prices at $50 per barrel in 2015, the state budget revenues (excluding transfers from the National Fund) are expected to be at 3.2 trillion tenge ($17.4 billion), which is 939.6 billion tenge ($5.1 billion) short of the approved target amount," he said.
Kazakh government is grappling with economic difficulties due to the dramatic fall in global oil prices and hard economic situation in Russia, its biggest trade partner.
Since mid-2014, oil prices drastically dropped from $100 per barrel to about $50 per barrel. Oil prices started to fall after supplies increased from certain countries such as Saudi Arabia, the largest producer in the Organization of the Petroleum Exporting Countries.
The sharp drop in global oil prices further complicated Kazakhstan's economic situation as it is heavily dependent on oil revenues. Kazakh economy suffered greatly from falling oil prices since 2014.
Dossayev said the GDP growth in 2015 is expected to stand at 1.5 percent (down from November's forecast of 3.3 percent), 2.2 percent in 2016 (down by 3.1 percentage points), 3.3 percent in 2017 (down by 3.4 percentage points), 3.6 percent in 2018 (down by 2.2 percentage points), and 4.1 percent in 2019 (down by 2.4 percentage points).
"Based on this, the nominal GDP in 2015 is expected to reach 41.3 trillion tenge ($223.08 billion), which is 2.4 trillion tenge ($13 billion) below November 's adjustment, with a gradual increase to 59.9 trillion tenge ($323.3 billion) in 2019. The GDP per capita will increase from $12,800 in 2015 to $17,600 in 2019," he said.
Dossayev also added that the industry would shrink by 0.3 percent in 2015. As a result of lower production and industrial exports and slowing investments, growth in the service sector will be reduced to 2.2 percent in 2015, he further noted.
The National Bank forecasts showed that in 2015 the volume of Kazakhstan's exports will fall by 44.7 percent - to $43.6 billion and imports will fall by 21.8 percent - to $34.7 billion. The inflation rate will be kept at bay however, staying within range - between 6 and 8 percent.
--
Sara Rajabova is AzerNews' staff journalist, follow her on Twitter: @SaraRajabova

Follow us on Twitter @AzerNewsAz