27 June 2014 11:35 (UTC+04:00)
2 784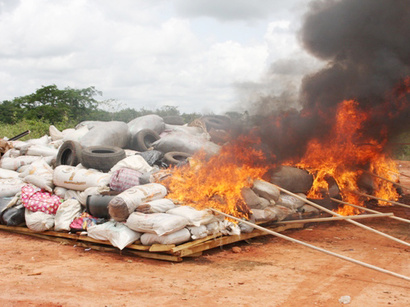 The Uzbek National Security Service destroyed 1.27 tonnes of drugs upon the government's instructions on June 26.
The drugs were seized by the law enforcement bodies while combating drug trafficking.
Drugs were burnt in the furnace of one of Tashkent's enterprises in the presence of the members of the interdepartmental commission and UN representatives.
Some 85.3 kg of heroin, 705 kg - opium, 175 kg - hashish, 266.5 kg - marijuana are among the destroyed drugs. A large amount of poppy straw, hemp and drugs in the form of tablets and solutions were also burnt.
Some 52 tons have been destroyed so far.
Some 7,680 of crimes related to drug trafficking were revealed in the country in 2013 compared to 8,155 crimes in the previous year. Some 3,772 crimes (4,217 in 2012) are associated with the sale, 623 (676) - smuggling 1,491 (1,479) - cultivation of narcotic plants, 154 (157) - drug houses and 1,640 (1,626) - with other types of drug-related crimes, the National Information and Analytical Center on Drug Control under the Cabinet of Ministers of the Republic said.
Currently, some 16,045 drug addicts are at a dispensary in the country or 1,190 less than in 2012.
Some 2,326 tonnes (3,043 tonnes in 2012) of drugs were seized from illicit drug trafficking in 2013. Some 121.6 kg of heroin, 851.3 kg of opium, 873.5 kg of marijuana, 143.3 kg of hashish were among these drugs.
Drugs are transported to Uzbekistan, mainly from Afghanistan through Tajikistan, Kyrgyzstan, and directly from Afghanistan across the Amu Darya River. Some 1,537 tonnes of drugs were burnt in Uzbekistan in June 2013.
Related News