17 October 2013 15:19 (UTC+04:00)
838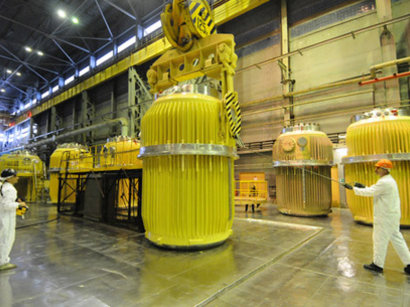 By Aynur Jafarova
Kazakhstan's population will be informed about the activity of the nuclear fuel bank based on a special plan developed by the country's foreign ministry for this purpose, Foreign Minister Erlan Idrisov said on October 16 during Government Hour at the parliament.
"The ministry has developed a plan to inform the population about the activity of the nuclear fuel bank in Kazakhstan," Idrisov said. "The conditions of storing nuclear fuel are being discussed with the IAEA."
According to him, placing international nuclear fuel bank in Kazakhstan doesn't pose any threat to the country's environment.
"The IAEA Secretary General visited recently and we made an interview to enable him to provide a full picture of the meaning and essence of a nuclear fuel bank which does not cause any environmental threats," he said.
In 2009 Kazakhstan initiated the placement of an international nuclear fuel bank in its territory under the auspices of the IAEA. The bank envisages the storage of low-enriched uranium for the production of fuel elements for the nuclear power plant (NPP) in a gaseous form that does not pose any radiation threat. Any country seeking to develop nuclear energy will be able to apply to Kazakhstan with a request for fuel for its own NPP.
Kazakhstan and the IAEA have agreed on the text of the country's agreement on placement of the organization's international low-enriched uranium bank on the country's territory.
Earlier chairman of the Atomic Energy Committee of Kazakhstan's Industry and New Technologies Ministry Timur Jantikin said that Kazakhstan can take a decision on deployment of a low-enriched uranium bank next year.
"There is no such a decision (on deployment of a nuclear fuel bank in Kazakhstan) yet, because at a number of issues on the safe functioning of the bank is being developed out with the IAEA," Jantikin said. "We have got about 12 technical missions of the IAEA. These include both regulatory framework and a complete set of laws. This entire package will be well studied, because there are too many aspects."
According to him, the appropriate decision will be made after all comments of international expert groups are met.
Kazakhstan holds the second largest uranium reserves in the world. Kazatomprom said earlier that around 5,590 tons of uranium was produced in Kazakhstan in the second quarter of 2013, which is by 9 percent over the same period of 2012.
Kazatomprom National Atomic Company is the Kazakh national operator for the import and export of uranium and its compounds, rare metals, nuclear fuel for power plants, special equipment, technologies and dual-use materials.
The company's main activities include geological exploration, uranium production, output of nuclear fuel cycle products, construction of reactors and nuclear power plants, non-ferrous metallurgy and production of construction materials, power industry, science, social welfare and personnel training.
Related News