Kazakhstan, EU to step up talks on new partnership agreement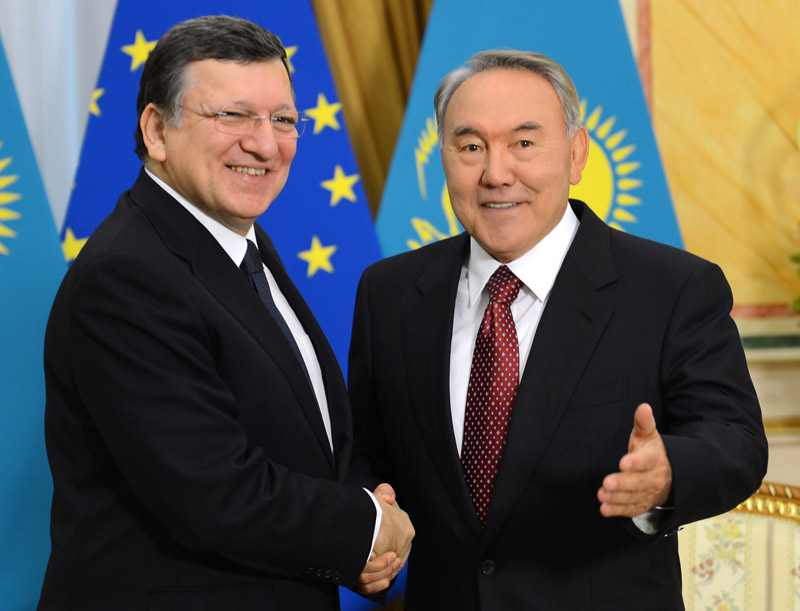 By Aynur Jafarova
A new, enhanced and more comprehensive cooperation agreement will open a new era in the relations between Kazakhstan and the European Union, said European Commission President Jose Manuel Barroso, who was on his first official visit to the Central Asian state on June 2-3.
During his visit, Barroso discussed the current state of affairs in the relations between Kazakhstan and the EU as well as regional and international issues with Kazakh President Nursultan Nazarbayev.
The parties agreed that the development of relations between Kazakhstan and the EU has revealed a promising potential for a more strategic partnership and created a solid basis for further expansion of bilateral relations.
The sides also confirmed their interest in concluding a new, enhanced Partnership and Cooperation Agreement as soon as possible and agreed on the need to intensify the negotiation process.
Considering that good governance, human rights and basic freedoms are a fundamental part of the relations and the political dialogue between Kazakhstan and the EU, the parties agreed on the importance of continuing engagement and cooperation in promoting human rights protection and reform of the legal and judiciary system.
The importance of bilateral and multilateral interaction in the fight against terrorism, countering violent extremism, organized crime, illegal drug and weapons trafficking was emphasized as well.
The sides welcomed the efforts directed at the strengthening of international security and confidence building measures and the launch of an EU-Central Asia high-level security dialogue, which is to be held for the first time in Brussels on June 13.
Barroso voiced his support for Kazakhstan's membership in the World Trade Organization (WTO). Citing Kazakhstan's importance for the EU as a reliable energy partner, Barroso underlined the importance of the commissioning of Kashagan, an oil field in Kazakhstan's sector of the Caspian
Sea.
Speaking at the Eurasian National University, Barroso said that the development of the Kashagan field is one of the largest joint projects of Kazakhstan and the EU in the world in recent decades. It would become a symbol of success of Kazakhstan and is also a symbol of strong relations between Kazakhstan and the EU.
Barroso went on to say that the EU's aim is to broaden the scope of bilateral cooperation in all areas of mutual interest and to support Kazakhstan's reform and modernization efforts.
According to him, bilateral trade between the EU and Kazakhstan has been growing very rapidly over the past decade.
Europe has become the top investor in Kazakhstan, accounting for about half of the total foreign direct investments in the country. The Kazakhstan-EU trade amounted to €31 billion in 2012.
In 2012, the EU import from Kazakhstan amounted to about 24.4 billion euros while the export from the EU made up 6.9 billion euros.