Iran: Gas exports to Georgia still on agenda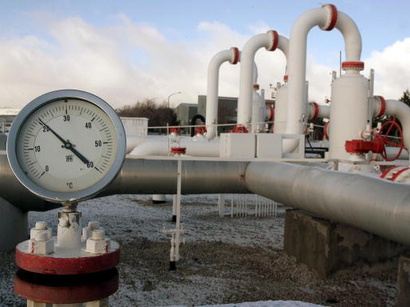 By Trend
Iran, which holds the largest conventional gas reserves in the world, sees Georgia as a potential market for its gas exports.
While the country has increased its gas output significantly and targets an output of 1 bcm/d by the end of the current fiscal year (March 20, 2018), Turkey and Iraq remain the only destinations for the country's gas export.
Tehran exports 30 million cubic meters of gas to Turkey and 14 million cubic meters to Iraq per day at the moment.
Iran's deputy oil minister, Hamid Reza Araqi, told the ministry's official news agency on Jan. 6 that Tehran has the capacity to export gas to various countries, including Georgia, thanks to its geographical position.
Araqi, who heads the National Iranian Gas Company (NIGC), said that gas export to Georgia is still on the agenda and the private sector would take part in the issue once agreements are finalized.
Iran needs to obtain Armenia's agreement as well, because the gas will pass through that country's territory, he said.
Araqi added that the private sector will buy gas from Iran and will transfer it to Georgia after paying swap costs.
The official further said that previously a private company took part in the issue, but no gas was exported.
Earlier in April 2017, Georgia's Deputy Minister of Energy and Natural Resources Mariam Valishvili told Trend that delivery of gas from Iran to Georgia is theoretically possible, and there is necessary infrastructure for this, but such contracts were not concluded between state companies.
She also noted that Georgia prefers Azerbaijani gas, since it is the most optimal supplier of gas to Georgian market.
Azerbaijan has been the main exporter of gas to Georgia for many years. Moreover, in previous years, Georgia received from Russia 10 percent of Russian gas supply to Armenia as a payment for its transit. In April 2017, Georgia decided to abandon Russian gas and fully switch to purchasing Azerbaijani gas.
Valishvili said that it is theoretically possible to supply Iranian gas to Georgia through Azerbaijan – there are pipelines from Iran to Azerbaijan and from Azerbaijan to Georgia.
In July 2016, Managing Director of National Iranian Gas Export Company (NIGEC) Alireza Kameli said that Iran signed an agreement with the Georgian private company, Georgian International Energy Corporation, to pump 40 million cubic meters of gas to Georgia.
Meanwhile, Valishvili noted that Georgia's pipeline system is in possession of the state, and private companies must present such contracts to the government in order to obtain services for transportation of purchased gas through the country.
---
Follow us on Twitter @AzerNewsAz