President: Turkmenistan possessing big mineral reserves can attract any investor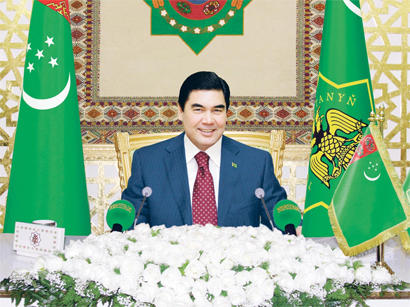 By Trend
Turkmenistan, having big mineral reserves, can attract any investor, Turkmen President Gurbanguly Berdimuhamedov said at a government meeting, the Turkmen Dovlet Habarlary state news agency reported.
"We should strengthen the work in this sphere," the president said.
The issue is to intensify the work in the chemical industry, including an increase in the volume of production of mineral fertilizers.
For this purpose, a number of new industrial facilities, including another mining enterprise for the production of potash fertilizers, plants for the production of carbamide and ammonia are planned to be built.
President Berdimuhamedov pointed to the importance of the expansion of the production capacities of the domestic industry and the introduction of advanced technologies at enterprises.
According to BP, Turkmenistan ranks fourth in the world in terms of natural gas reserves and sells gas through pipelines to China and Iran. Turkmenistan aims at diversifying its fuel economy.
The biggest complex in Central Asia with a capacity of 1.4 million tons of potash fertilizers a year was put into operation in Garlyk settlement, Turkmenistan's Lebap region in March 2017.
Moreover, a new port infrastructure will be built in Garabogaz city of Turkmenistan's Balkan province and chemical products are planned to be exported.
Turkmenistan's potential hydrocarbon reserves reach 71.2 billion tons of oil equivalent, of which 53 billion account for onshore areas and 18.2 billion tons – offshore areas.
---
Follow us on Twitter @AzerNewsAz