3 October 2017 09:47 (UTC+04:00)
3 609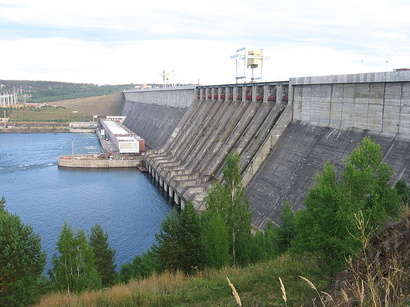 By Kamila Aliyeva
Attraction of foreign investment for the construction of the Rogun Hydropower Plant (HPP), the world's tallest dam, remains the key issue that hinders and pulls back the project's implementation.

The government of Tajikistan, which has suffered from electricity shortages for years, makes all possible efforts to complete the construction of dam that will solve the country's energy problem.

By implementing the project, Tajikistan will be able to generate about 13 billion kilowatt-hours of electricity annually. This will not only help the country to meet its domestic needs but also turn Tajikistan into a major exporter of electricity.

Approximately $4 billion is needed to complete the major energy project. About 2 billion somoni ($227,2 million) have been allocated from the state budget for the completion of the hydroelectric power station this year.

Therefore, the Tajik authorities decided to issue securities worth $1 billion for the completion of the Rogun HPP. At the first stage, bonds worth $500 million were put up for sale on the world markets.

Selling bonds internationally worth $500 million is an economic activity not sufficient enough to construct a giant dam like Rogun, Dr. Aftab Kazi, Senior Fellow at Central Asia-Caucasus Institute & Silk Road Studies Program in SAIS, Johns Hopkins University, told Azernews newspaper.

"Before Rogun could be constructed, all five Central Asian nations need to sit down together to reach a consensus about the distribution of water ratios between themselves. Ex-President of Uzbekistan Islam Karimov was totally against it but Shavkat Mirziyoyev is more interested in Central Asian regional integration," he said.

The dam should form a large Rogun reservoir with a total volume of 13.3 cubic meters. The project is criticized because of the location in the zone of high seismicity, landslide and mudflow processes, and the presence of a tectonic fault filled with rock salt under the base of the dam.

Uzbekistan has previously openly opposed the project. The Rogun HPP will dam the Vakhsh river, which is a major tributary to the Amu Darya river, one of the region's two major water courses. The neighboring countries cautioned water could be diverted from their cotton and wheat fields. Uzbekistan claimed that water flows would be seriously decreased in case the dam is built. But a World Bank assessment gave the go-ahead to the major project.

Currently, Uzbekistan's position has also changed and become more tolerant. Thus, atmosphere for a water distribution accord appear is suitable now, according to the expert.

"Tajikistan could construct that dam from its quota, but that could also take years. Rogun is a part of CASA 1000 proposed by the U.S. around 2005/6 or so together with a dam on Darin River in Kyrgyzstan. Water levels in Darin fluctuate. Since 2007, water levels were so low that even Bishkek had to face electricity load shedding," he said.

CASA1000 has lost its importance and that now remains only on paper, as Afghanistan is no more interested in the electricity project and has withdrawn, Kazi noted.

"As long as the Afghanistan stalemate continues, I doubt if Tajikistan could attract international investments other than from China," he added.

CASA-1000 is an interregional electricity transmission project in Central and South Asia to connect four countries - Kyrgyzstan, Tajikistan, Pakistan, and Afghanistan. It is presupposed that the project will create opportunities for the export of electricity surplus in summer period from Tajikistan and Kyrgyzstan to Afghanistan and Pakistan.

Groundbreaking for the project took place on May 12, 2016 in Tajikistan in a ceremony attended by the Kyrgyz, Tajik, and Pakistani Prime Ministers, and is expected to be completed by the end of 2018.

The project initially also included transfer of electricity to Afghanistan, however the country abandoned its share of electricity due to dearth of demand, hence Pakistan will receive 1,300 megawatts of electricity.
---
Kamila Aliyeva is AzerNews' staff journalist, follow her on Twitter: @Kami_Aliyeva
Follow us on Twitter @AzerNewsAz
Related News