26 July 2017 17:14 (UTC+04:00)
2 348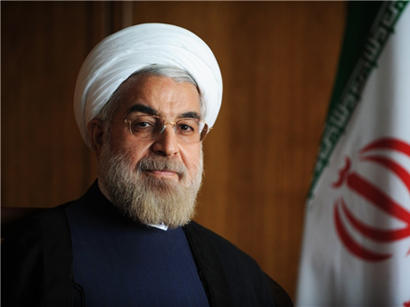 By Sara Israfilbayova
Iranian President Hassan Rouhani, in response to the incident with the U.S. Navy ship in the Persian Gulf, demanded Washington abandon aggressive policies to preserve the safety of international shipping in the region.
Rouhani stressed that for 40 years the U.S. has exerted pressure, boycotted, arranged provocations against Iran, and also mobilized some countries of the region against them, but was defeated.
"If the Americans want the region to be more stable and the key water arteries be safe for the world, they must stop their hostile actions," the Iranian President said.
An incident took place on July 25 in international waters in the northern part of the Persian Gulf with the participation of a U.S. Navy ship and a patrol boat of the Islamic Revolutionary Guard Corps (IRGC) [a branch of Iran's Armed Forces].
The American combat ship fired two shots in the air toward the Iranian vessel, with "the purpose of provocation and intimidation," according to the version of the Iranian military.
The American side says that the crew of the Iranian ship violated the international regulations for preventing collisions at sea, when it went on a dangerous rapprochement with the U.S. navy ship in the Persian Gulf.
A similar incident happened on January 8, 2017. Then the American Mahan destroyer opened a warning fire towards four Iranian military boats that approached him in the Strait of Hormuz.
Meanwhile, U.S. President Donald Trump warns Islamic Republic to be in compliance with the nuclear deal, otherwise Iran can have big problems.
"If that deal doesn't conform to what it's supposed to conform to, it's going to be big, big problems for them. That I can tell you. Believe me," the Wall Street Journal quotes the President's words
Iran and six international mediators (the U.S., Russia, China, Great Britain, France and Germany) reached an agreement on the settlement of the Iranian nuclear problem on July 14, 2015. Its implementation removes from Iran the previously imposed economic and financial sanctions from the United Nations Security Council, the U.S. and the European Union. The plan came into force on January 16, 2016.
---
Follow us on Twitter @AzerNewsAz
Related News