29 July 2016 11:43 (UTC+04:00)
2 086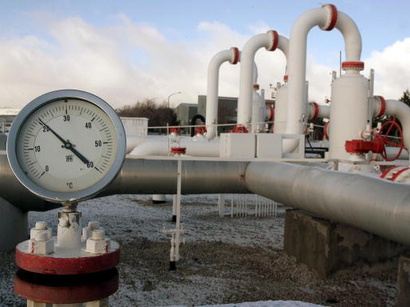 A number of enterprises in Turkmenistan's Lebap province are provided with fuel as a result of commissioning a high-pressure Bagtyyarlyk-Garlyk gas pipeline with a length of 250 kilometers, the country's oil and gas complex reported.
Natural gas is the main source for operation of the cement plant and recently commissioned Watan state power plant.
"The gas pipeline made it possible to supply gas to settlements of Lebap province. The sulfur produced by the gas processing plant that was constructed on Bagtyyarlyk contract area, is the main raw material for producing sulfuric acid at Turkmenabat chemical plant," said the message.
Currently, major investment projects are being implemented in Turkmenistan in various spheres such as fuel and energy sphere, textile and chemical industry, agriculture and construction industry.
Turkmenistan enjoys the world's fourth largest natural gas reserves after Russia, Iran, and Qatar.
Turkmenistan holds 9.4 percent of the world's total proven natural gas reserves and produced 2 percent (72.4 billion cubic meters) of the world's total blue fuel output in 2015 which is up by 4.5 percent compared to the country's production level in 2014, according to the BP statistical review of 2016.
---
Follow us on Twitter @AzerNewsAz
Related News