26 May 2016 18:29 (UTC+04:00)
2 350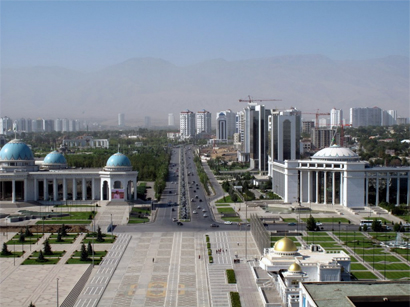 By Fatma Babayeva
Turkmenistan has great potential for the partnership with the European Union regarding its gas supplies to Europe, said Myratgeldi Meredov, Turkmen Minister of Oil and Gas during the International Gas Congress held in Avaza on May 23-24.
Meredov noted that a declaration on the developing cooperation in this sphere agreed between Turkmenistan, Azerbaijan, Turkey and the European Union.
About a year ago, a meeting was held in Ashgabat with the participation of the managerial staff of energy institutions of Turkmenistan, Azerbaijan, Turkey and the European Commission. During the meeting, they discussed priorities on diversifying routes of energy resources to the global market including the European direction which envisages the establishment of a joint multiple variant calling pipeline infrastructure.
With the fourth largest gas reserves in the world, Turkmenistan is one of the key players in the energy market in the Caspian region and Central Asia.
A strong resource base provides a ground to conclude long-term contracts on supplying stable energy resources, said Merdenov, reminding that currently, Turkmenistan exports its natural gas to China and Iran.
The minister further emphasized the role of the East-West pipeline in ensuring the stability and reliability while sending Turkmenistan's gas supplies to the global market.
This gas pipeline brings together almost all major gas fields of the country into a single gas transmission system and allows sending natural gas in the eastern direction, as well as, in the perspective western direction- which further strengthens the guarantees on the security and reliability of energy supplies to the global market, added the Minister.
Earlier, it was reported that the EU hopes to receive Turkmen gas in 2019. In this regard, the construction of the 300 kilometers pipeline from Turkmenbashi to Azerbaijan's Sangacal has been planned, so called Trans Caspian Pipeline.
However, the legal status of the Caspian Sea – which is the main obstacle for building this pipeline - is yet to be determined.
Ashgabat believes that consent of Turkmenistan and Azerbaijan for laying pipes on the Caspian's seabed is sufficient as they own the territory which the project covers.
At the same time, Azerbaijan has expressed its readiness to provide its territory, transit opportunities and infrastructure for realization of the given project.
Russia and Iran is speaking against the project of Trans-Caspian gas pipeline by raising questions about the environmental safety of the sea.
Recently, during his interview ANS TV, Natig Aliyev, Energy Minister noted that if other states like Turkmenistan intend to send their gas via Azerbaijan or join Trans Anatolian pipeline (TANAP), Azerbaijan has no objections for it.
Azerbaijan will create an opportunity by holding negotiations with the states who want to join the project and transport their gas to Europe by using the SGC, he said.
---
Fatma Babayeva is AzerNews' staff journalist, follow her on Twitter: @Fatma_Babayeva
Follow us on Twitter @AzerNewsAz
Related News