Major events in Caspian oil & gas industry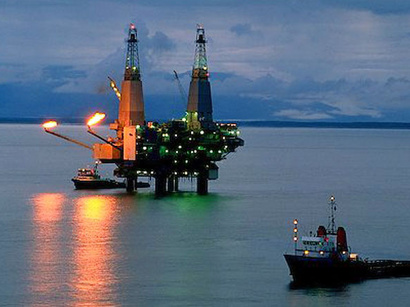 BP launches production at new oil platform in Azerbaijan's largest field
BP, project operator for the development of the Azeri-Chirag-Guneshli offshore fields block, has commissioned the new West Chirag platform, a source in the Azerbaijani oil and gas market said.
"The platform has already been commissioned, and oil production started there," the source stressed.
The platform was installed at a depth of 170 meters between the already-running production platforms Chirag and Guneshli.
According to forecasts, the volume of oil production at the new West Chirag platform in 2014 will be three million tons per year, head of BP Azerbaijan Gordon Birrell said at a briefing.
Work on creation of infrastructure for Shah Deniz-2 starts
Construction work at Sangachal terminal has started within the second phase of development of Azerbaijani gas condensate field Shah Deniz, head of BP Azerbaijan Gordon Birrell said.
Additionally, preparatory works have begun in the construction of two compressor stations in Georgia's territory as part of the expansion of the South Caucasus gas pipeline, according to Birrell.
SOCAR commissions second well at Umid gas condensate field
SOCAR (the State Oil Company of Azerbaijan) has commissioned a second production well at the Umid gas condensate field in the Azerbaijani sector of the Caspian Sea, SOCAR said.
According to the statement, as the result of drilling, the well's depth constituted 6309 metres. The well was commissioned with a daily debit of 800,000 cubic meters of gas and 200 tons of condensate.
Minister: Kazakhstan develops three basic scenarios for oil production
Kazakh Ministry of Oil and Gas has defined three basic scenarios for oil production: 'accelerated', 'economical' and 'pragmatic', Kazakh Minister of Oil and Gas, Uzakbai Karabalin said at an extended board meeting.
"This is due to several reasons. First of all, forecast of all leading expert organizations in the world are talking about the preservation of a long-term leading role for oil and gas in the energy industry. Moreover, according to the International Energy Agency (IEA) and BP analysts, oil demand in the world will increase from the current four billion to five billion tons per year by 2035. Given this, in the next three decades the Brent oil's price, in line with the most moderate estimates, will increase to $130-160 per barrel," Karabalin said.
He said that the 'pragmatic' scenario seems to be more optimal. It is oriented to dynamic but consistent growth in production up to 100 million tons in 2020, up to 110-115 million tons in 2030, and stabilization at the level of 110 million tons in 2040-2050.