Reserves allow Azerbaijan's gas industry to develop for over 100 years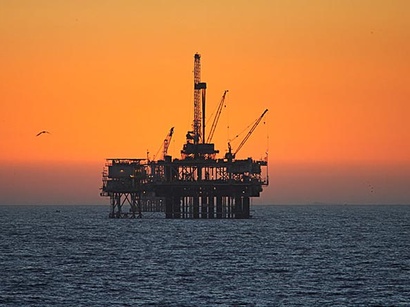 By Gulgiz Dadashova
Azerbaijan, a resource-rich South Caucasus republic, forecasts growth in the oil and gas output over the long term in the backdrop of the implementation of large-scale energy projects.
The Industry and Energy Ministry announced that currently the country's proven gas reserves are at the level of 2.6 trillion cubic meters, while the oil reserves amount to 2 billion tons.
The cited indicators ensure future development of the gas industry in Azerbaijan for a period exceeding 100 years.
According to the projections, the country's oil production will hit 51 million tons in 2015.
The oil extraction will reach 41.06 million tons by the end of 2013, 49.5 million tons in 2014, and 50.86 million tons in 2015.
Azerbaijan's state energy company SOCAR in the medium term will work to keep oil production at no less than 8 million tons.
In 2012, Azerbaijan's oil production was 43.39 million tons, with the share of SOCAR accounting for 8.17 million tons of this volume.
Meanwhile, Azerbaijan's gas production will exceed 30 billion cubic meters in 2015.
Gas production will amount to 27.54 billion cubic meters in 2013, 29.39 billion cubic meters in 2014, and 30.19 billion cubic meters in 2015.
The volume of gas production by SOCAR is expected to be at 6.74 billion cubic meters in 2013, 8.09 billion cubic meters in 2014, and 8.19 billion cubic meters in 2015.
In 2012, Azerbaijan's gas production was 26.8 billion cubic meters, and 6.92 cubic meters of this volume fell to SOCAR.
Azerbaijan produced about 2 billion tons of oil in the period from 1847 to 2012 and about 650 billion cubic meters of gas from 1928 to 2012.
Azerbaijan is an important current and future supplier of both oil and natural gas. The country's largest hydrocarbon deposits are located in the Caspian Sea, particularly, the Azeri-Chirag-Guneshli (ACG) block of oil and gas fields and Shah Deniz gas field.
The contract on the ACG full field development was signed in 1994. ACG project shareholders are: operator BP (35.83 per cent), Chevron (11.27 per cent), Inpex (10.96 per cent), AzACG (11.6 per cent), Statoil (8.56 per cent), Exxon (8 per cent), TPAO (6.75 per cent), Itochu (4.3 per cent) and ONGC (2.72 per cent).
Reserves of the Shah Deniz field are estimated at 1.2 trillion cubic meters of gas. The contract to develop the offshore field was signed in 1996. Shareholders of the project are BP and Statoil with 25.5 percent each, NICO, Total, Lukoil and SOCAR with 10 percent each, and TPAO with 9 percent.