SOCAR opens 16th gas station in Romania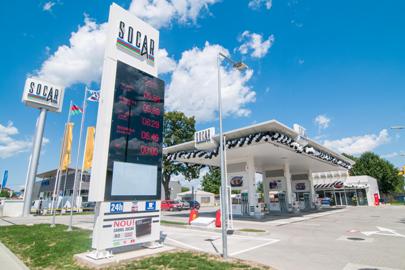 By Nigar Orujova
Azerbaijan's state oil company SOCAR has commissioned another gas-filling station under its brand in the Roman city of Neamt region, Romania, SOCAR said on July 23.
It is the 16th gas station in Romania and the fourth one in the Neamt region.
The opening ceremony was attended by employees of SOCAR Petroleum S.A., Mayor of Roman Laurentiu Dan Leoreanu, State Secretary of Romania's Cabinet of Ministers Mihai Adrian Albulescu, representatives of local government bodies and the media.
The gas station, located in a 2,000 square meters area, offers customers oil products like Euro Diesel 95, Super Euro Diesel 98, gasoline of the 95 and 98 grades, and natural gas.
Three counters have been installed at the station, which can simultaneously refuel four small vehicles or two large capacity trucks.
The gas station also has a cafe and customers are provided with round-the-clock internet.
SOCAR intends to expand its presence in the Romanian market and 2013-2015 will see investments in Romania.
Earlier in July the company commissioned a petrol station in the Neamt region and a gas-filling station in Ukraine's Odessa region.
SOCAR is involved in exploring oil and gas fields, producing, processing, and transporting oil, gas, and gas condensate, marketing petroleum and petrochemical products in the domestic and international markets, and supplying natural gas to industry and the public in Azerbaijan.
Three production divisions, two oil refineries and one gas refinery, an oil tanker fleet, a deep water platform fabrication yard, two trusts, one institution, and 22 subdivisions are operating as corporate entities under SOCAR.
The company owns filling stations in Azerbaijan, Switzerland, Georgia and Ukraine.