21 February 2013 16:16 (UTC+04:00)
909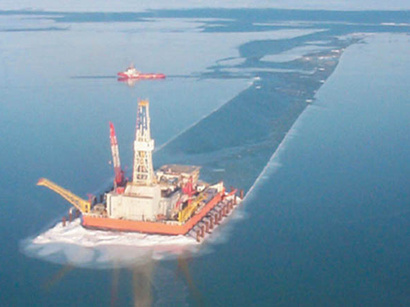 While resolving the issue of Kazakhstan's buying a share of ConocoPhillips in Kashagan, it is important to accurately calculate the economic component of the transaction, Kazakh political analyst Daniyar Ashimbayev said on Monday.
"Must Kazakhstan use a priority right to buy a share of ConocoPhiilps in the Kashagan development project?" Ashimbayev queried. "The solution depends on the exact calculation of the cost-effectiveness of this transaction. It is not a secret that many Kazakhs would like the state to be the sole participant of many promising projects. However there should be consideration of the fact that the participation of many investors in this project is a sign that the oil and gas sector of the country is promising and the investment climate is favourable."
Experts think that Kazakhstan could raise funds from the National Fund to purchase a share of ConocoPhillips worth $5.5 billion. Ashimbayev said that such a scenario is not excluded.
"Yes, one can draw five billion from the National Fund," he said. "Moreover, many experts doubt the effectiveness of its governance. However the calculation of the economic component and the accurate and qualified assessment of another issue is required. The question is whether Kazakhstan will be able to be an operator of such a complex project as Kashagan after increasing its share from 16.81 per cent to 25 per cent while buying ConocoPhillips's share? Are there enough qualified staff and established production usage of sophisticated equipment? There is one important thing and that is whether the state is sure that this capital investment will be really effective. One must find a compromise between political and economic opportunities in this issue."
It should be remembered that in autumn 2012, the U.S. firm announced on its website that it had officially informed the Kazakh authorities and partners about the intention to sell its share (8.4 per cent) in the project.
Meanwhile, an informed source in oil and gas circles told Trend, that Kazakhstan will take a decision regarding purchasing ConocoPhillips' shares in Kashagan no earlier than June this year.
"It is premature to say that Kazakhstan has waived its right to repurchase shares. The government of the republic may not decide until June of this year," the source said.
Within the North Caspian project, Kashagan is being developed by the North Caspian Operating Company (NCOC) consortium whose shareholders are Agip Caspian Sea BV (16.81 per cent), KMG Kashagan B.V. (16.81 per cent), ConocoPhillips North Caspian Ltd. (8.4 per cent), ExxonMobil Kazakhstan Inc. (16.81 per cent), Inpex North Caspian Sea Ltd. (7.56 per cent), Shell Kazakhstan Development BV (16.81 per cent) and Total EP Kazakhstan (16.81 per cent).
Related News