Turkey says BTE gas pipeline blast a terror act (UPDATE)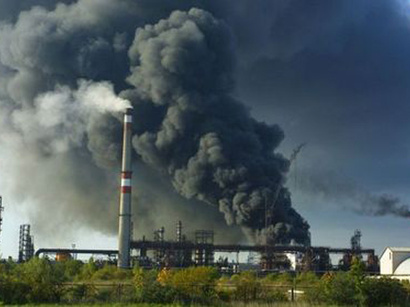 By Arslan Abbasov
The explosion on the Turkish section of the Baku-Tbilisi-Erzurum (BTE) pipeline transporting Azerbaijani gas to Turkey resulted from a terror act, the Turkish energy ministry told Trend news agency on Thursday.
According to the ministry, natural gas supplies from Azerbaijan were suspended due to the explosion. However, Turkey does not intend to increase supplies from other countries as there is no shortage of gas in the country.
The ministry also said gas transportation via the pipeline will resume within seven to 10 days.
The explosion occurred on the section of the BTE pipeline in the Sarikamis district located in the Turkish province of Kars, Turkish media reported.
Last time an explosion occurred on the BTE pipeline on May 29.
BP Azerbaijan, operator of the Azerbaijani offshore Shah Deniz field, which produces gas transported via the BTE pipeline, told Trend news agency that at the request of the Turkish pipeline company Botas gas supply to the company's system was suspended.
Work on the Shah Deniz platform has not been suspended, and gas is supplied to Azerbaijan, Georgia and the pumping stations of the Baku-Tbilisi-Ceyhan oil pipeline normally -- 24 hours a day, BP Azerbaijan said.
Turkey has a contract for supply of 6.6 billion cubic meters of Azerbaijani gas annually from the Shah Deniz field via South Caucasus Pipeline, which is a section of the BTE pipeline crossing Azerbaijan and Georgia.
A source at Azerbaijan's state energy company, SOCAR, told Trend that the volume of gas injected into underground storage facilities has increased due to the suspension of Azerbaijani gas supplies to Botas' system.
The SOCAR source said that the increase of gas injection into underground storages in Azerbaijan started late on Wednesday.
Currently, the total volume of gas injection exceeds 14 million cubic meters per day. The volume of gas injection from the Shah Deniz field into underground storage facilities increased by 4 million cubic meters per day in the past few days.
The source said all the available equipment in two underground storage facilities -- Garadagh and Kalmaz -- has been used to ensure pumping of more gas from the Shah Deniz field.