8 February 2011 11:22 (UTC+04:00)
882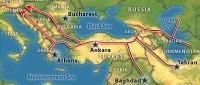 ANKARA – Turkey has said it would lift taxes to reduce the cost of building the Nabucco pipeline that will pump Caspian and Central Asian gas to Europe, Turkish media reported.
The country's finance ministry will not charge the Value Added Tax (VAT) on the construction materials to be used in building the pipeline under the 7.9 billion-euro project, whose implementation remains challenging despite the signing of a relevant agreement in 2009. Construction operations are due to begin in 2012.
Turkey was expected to receive 1 billion euros in taxes. But after the finance ministry's decision, passed at a meeting held jointly with the energy ministry, is enforced, the companies that will build the conduit will be exempt from VAT, which accounts for 18 percent of the cost of construction materials.
Ankara made the decision on the proposal of its partners in the Nabucco project, and the other five countries participating in the pipeline consortium are expected to provide tax concessions as well, reports say.
The 3,300-kilometer Nabucco pipeline, which will run from eastern Turkey to the Austrian capital Vienna, is expected to come online in 2015. Gas deliveries by the pipeline, which will bypass Russia, will help European countries to diversify their supplies of energy. Maximal capacity of the pipeline will be 31 billion cubic meters per year. Nabucco participants with equal shares are Austrian OMV, Hungarian MOL, Bulgarian Bulgargaz, Romanian Transgaz, Turkish Botas and German RWE.
Category News