Kazakh oil may run via BTC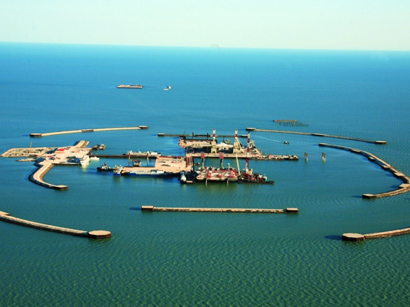 By Sara Israfilbayova
Kazakhstan intends to transport its oil through the Baku-Tbilisi-Ceyhan (BTC) pipeline, running from the Azerbaijani coast of the Caspian Sea to the Mediterranean Sea.
Azerbaijan's Energy Minister Natig Aliyev discussed with his Kazakh counterpart Kanat Bozumbayev possible crude transportation from the giant Kashagan field via the BTC pipeline at a meeting in Baku.
The meeting was held as part of the official visit of Kazakh President Nursultan Nazarbayev to Azerbaijan, the Energy Ministry reported.
Aliyev urged to undertake a series of measures within the intergovernmental commission to further strengthen ties between Azerbaijan and Kazakhstan.
He said that in May Baku will host the 14th meeting of the Azerbaijan-Kazakhstan intergovernmental commission with the purpose to increase trade turnover between the countries and to maximize their export and import capacity.
In turn, Bozumbayev said Kazakhstan will take similar measures and proposed to hold a meeting of deputy ministers in early May to exchange views.
The two ministers also discussed the possible transportation of oil from Kazakhstan's giant Kashagan field to world markets via the BTC pipeline.
Kashagan, first discovered in 2000, is considered to be the world's largest discovery in the last 30 years, combined with the Tengiz Field. Oil extraction at Kashagan, a large oil and gas field located in the north of the Caspian Sea, was relaunched in autumn of 2016.
The volume of production and export from the field has already exceeded 1 million tons of crude oil and condensate. The figure was fixed on January 8, 2017.
The project participants are KMG Kashagan BV (16.88 percent), AGIP Caspian Sea BV (nearly 16.81 percent), CNPC Kazakhstan BV (8.33 percent), Exxon Mobil Kazakhstan Inc. (nearly 16.81 percent), INPEX North Caspian Sea Ltd. (nearly 16.81 percent), Shell Kazakhstan Development BV (nearly 16.81 percent), and Total E&P Kazakhstan (nearly 16.81 percent).
The field is operated by North Caspian Operating Company BV (NCOC).
---
Follow us on Twitter @AzerNewsAz