14 December 2015 11:35 (UTC+04:00)
5 946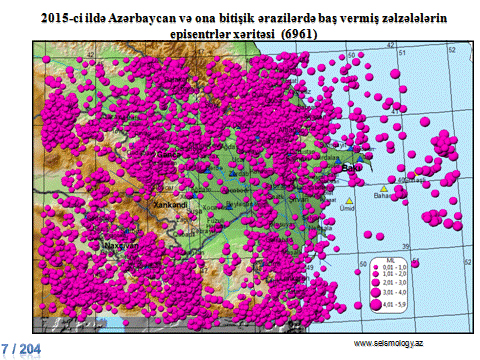 By Nigar Orujova
Seismic activity intensified in Azerbaijan as the country faced about 7,000 earthquakes in 2015.
Magnitude of more than 80 earthquakes ranged from 3.1 to 5.9, and tremors of 17 were felt, the Republican Seismological Service Center reported.
Azerbaijan locates in seismically active zone. Scientists believe that seismic zones with the potential to produce dangerous force cover the entire country, while the Alpine-Himalayan seismic belt passes directly through Azerbaijan.
An increase in seismic activity is observed since the beginning of the year in the northern part of Azerbaijan – in Oghuz, Shamakhi-Ismayilli, Shabran seismic zones, as well as in the southern part – the Talysh seismic zone, according to the center.
The seismic activity in the Caspian Sea increased in 2015 compared to the last year, but the level seismic energy released through tremors was lower.
In the first quarter of this year, the magnitude of the strongest earthquakes in the Caspian Sea was 5.4. This earthquake occurred on March 22, but the tremors were not felt.
The strongest earthquake of the second quarter of the year occurred in the Goranboy region (4.7), the third quarter – in the territory of Oghuz region (5.9), and in the fourth quarter again the strongest earthquake hit Oghuz (4.0).
The last earthquake recorded in the country was observed in the Caspian Sea to the north of Baku on December 11. The strength of the quake was 3.4 on the Richter scale; the epicenter was located at a depth of 61 km.
The Seismological Service Center noted that the seismic tension on the southeastern slope of the Greater Caucasus has decreased this year, while it remains the same in regions of the Lesser Caucasus and Talysh Mountains.
In November, the Ecology and Natural Resources Ministry announced that Azerbaijan may face 3-4 magnitude earthquakes in the near future and named zones that have potential risks of earthquakes.
Shaki-Oghuz, Central Caspian seismogenic zone and partly Southeastern sector of Shamakhi seismically active zone were named as areas of potential seismic risk based on the operational analysis of seismic and geodynamic conditions in Azerbaijan in the end of October.
Last year was also marked with an intensification of seismic processes as well as the most powerful earthquakes that Azerbaijan has seen in the past 15 years.
Six earthquakes measuring over 5.0 on the Richter scale occurred in Azerbaijan in 2014, releasing a tremendous volume of energy.
__
Nigar Orujova is AzerNews's staff journalist, follow her on Twitter: @o_nigar
Follow us on Twitter @AzerNewsAz
Related News