1 May 2015 20:55 (UTC+04:00)
1 212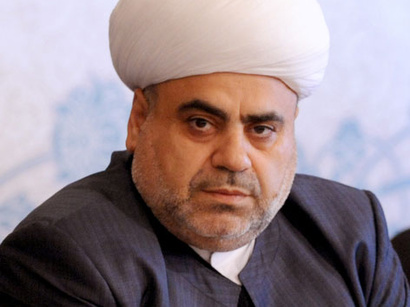 By Mushvig Mehdiyev
The Nagorno-Karabakh conflict undermines peace in the South Caucasus region. The matter has been once more put forward in Baku during a high-level meeting.
Head of the Caucasian Muslims Office, Sheikh-ul-Islam Allahshukur Pashazadeh stressed that it not possible to discuss peace and stability in the region without the settlement of the Nagorno-Karabakh conflict.
In a meeting with Herbert Salber, the European Union special representative for South Caucasus, Pashazadeh called Armenia an aggressive country that occupies Azerbaijani lands.
"Although the Armenian extremists committed the genocide in Khojaly, Armenia has recently celebrated the centennial of its so-called "genocide". Armenia is an aggressor who occupies Nagorno-Karabakh and seven adjacent regions of Azerbaijan," he said.
Sheikh's periodical comments on Yerevan's aggression against Baku come to join the range of official condemnations from Azerbaijan addressed to the Armenian authorities. In his recent speeches he accused Armenia of playing the victim card, abusing its fabricated "genocide" claims despite its own crimes against humanity- 1918 and 1992 against Azerbaijanis.
Armenia's armed invasion into Azerbaijan's legal territory resulted in a severe conflict pushing the two neighboring countries into a bitter territorial dispute over the Nagorno-Karabakh region, which Armenia-backed separatists seized from Azerbaijan in a bloody war in the early 1990s.
Over 20,000 Azerbaijanis were killed and 50,000 were injured by the Armenian troops' atrocities in the occupied lands. Incumbent President of Armenia, Serzh Sargsyan, the country's then defense minister even confessed that acts of ethnic cleansing were carried out against the Azerbaijani population in Nagorno-Karabakh in his interview with the Washington DC-based Carnegie Endowment for International Peace back in 2000.
When it came to relations between the state and religion in Azerbaijan, Pashazadeh said members of various confessions and communities have lived in the country in peace and friendship for centuries.
Salber, in turn, expressed his interest in the possible role of religious leaders in the settlement process of the Nagorno-Karabakh conflict. He said the heads of religious communities should actively be involved in the resolution process.
Related News