President Aliyev receives ISSF head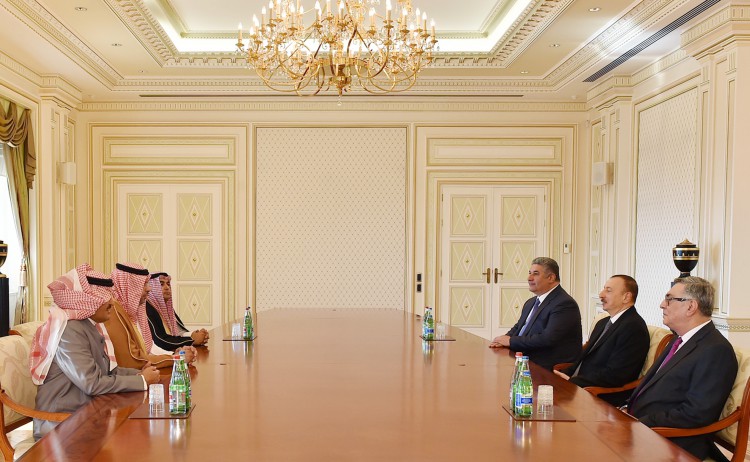 By Nigar Orujova

Azerbaijan's President Ilham Aliyev received a delegation led by President of the Islamic Solidarity Sports Federation, Saudi Arabia's Minister of Youth and Sports, President of Saudi Arabia's Olympic Committee, Prince Abdullah bin Mosaad bin Abdulaziz Al Saud on April 8 in Baku.

The Saudi minister said he had eye-witnessed big development processes in Azerbaijan, and noted that the state-of-the-art sports infrastructure was established in the country.
He congratulated the head of state over gained achievements, and noted with pleasure that Azerbaijan was ready to host the Islamic Solidarity Games.

President Aliyev recalled with pleasure his visit to Saudi Arabia and his meeting with King of Saudi Arabia Salman Bin Abdulaziz Al Saud, and thanked the King of Saudi Arabia for the excellent condition created in the holy Kaaba to pray with his family members.

The president said he visited Mecca, Medina and the Organization of Islamic Cooperation in Jeddah, and noted the importance of the visit in terms of the further strengthening of cooperation between the two countries and solidarity among the Muslim world.

Touching upon the visit of Prince Abdullah bin Mosaad bin Abdulaziz Al Saud to Azerbaijan, the head of state stressed the role of the visit in expanding cooperation between the two countries in the field of sports.

President Aliyev noted that the visit would create good opportunities to discuss the issues related to the preparation for the Islamic Solidarity Games.
Azerbaijan's capital Baku was officially appointed host country for the IV Islamic Solidarity Games - to be held in Baku-2017- on April 7. The country was granted the honor to hold the IV Islamiada in Jeddah in July 2013.
The Islamic Solidarity Games is a multinational, multi-sport event involving the elite athletes of the Organization of the Islamic Cooperation, which is the second largest inter-governmental organization after the UN with 57 member states spread over four continents.
Islamiada will present about 19-20 sports. The competition program will resemble that of the European Games with some additions - weightlifting for example will figure among the disciplines competing for a medal.
The Games, which will bring together athletes from 57 countries, will be held under the slogan "Solidarity is our power". Athletes do not have to be Muslims to compete in the Games - religion is in no way compulsory.
--
Nigar Orujova is AzerNews's staff journalist, follow her on Twitter: @o_nigar
Follow us on Twitter @AzerNewsAz