Azerbaijan, Estonia hold political talks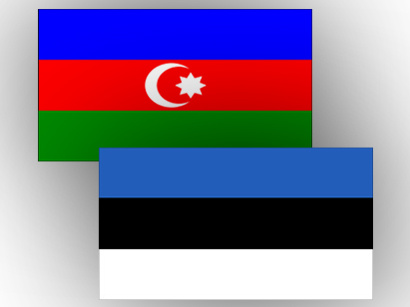 By Amina Nazarli
Foreign ministries of Azerbaijan and Estonia held next round of political consultations, as Khalaf Khalafov, the deputy Foreign Minister has met Paul Teesalu, the director general of the Political Department of the Estonian Foreign Ministry in Baku on April 1.
Khalafov noted the fruitful bilateral and multilateral cooperation between the two countries within the international and regional organizations, especially the European Union.
He hailed the current level of political relations, adding that the two countries have great potential for further development of relations in economic, renewable energy, information technologies, agriculture and other fields.

Expressing his satisfaction with the current development level of relations between the two sides, Teesalu, for his part, underlined the role of the Azerbaijani community in Estonia, who well integrated into the society in the further development of bilateral cooperation.
Remembering his last visit to Azerbaijan in 2010, Paul Teesalu expressed his profound impressions about the development of Baku.

Giving brief information about Armenia-Azerbaijan Nagorno-Karabakh conflict, Khalafov noted the double standards attitude of the European Union's in regards to the conflict, adding that it constitutes a major threat for peace and security in the region.
Azerbaijan's internationally recognized Nagorno-Karabakh territory was turned into a battlefield and zone of aggravated tensions after Armenia sent its troops to occupy Azerbaijan's lands in the early 1990s. As a result, 20 percent of Azerbaijan's internationally recognized territory stands under military occupation of Armenia.
Emphasizing the importance of a common approach by the EU in regards to all conflicts, the deputy foreign minister underlined the necessity of to free the occupied Azerbaijani territories.
Saying that Azerbaijan is an important partner for Estonia, the Estonian diplomat expressed his understanding for the position of Azerbaijan in the resolution of the Nagorno-Karabakh conflict within the territorial integrity and sovereignty of Azerbaijan.
Teesalu reminded that Estonian business community is recommended to refrain from any kind of business activities in the occupied territories of Azerbaijan.

The sides also touched upon the first European Games to be held in Baku this summer, which will host more than 6,000 athletes from across Europe over 17 days of competition.
Wishing Azerbaijan success in hosting the European Games, Teesalu informed that about 50 Estonian athletes will participate at the games.

They also discussed the regional and global developments and other issues of mutual concern.
Bilateral relations between the two countries are well developed and the two sides enjoy opportunities for deepening the relations.
Diplomatic relations between the two states was established in 1992.
Earlier, Estonia was represented in Azerbaijan through its embassy in Turkey. Estonian embassy was opened in Baku in 2014. Azerbaijan has an embassy in Tallinn. Over 2,500 Azerbaijanis live in Estonia.
--
Follow us on Twitter @AzerNewsAz