Azerbaijani peacekeepers sent to Afghanistan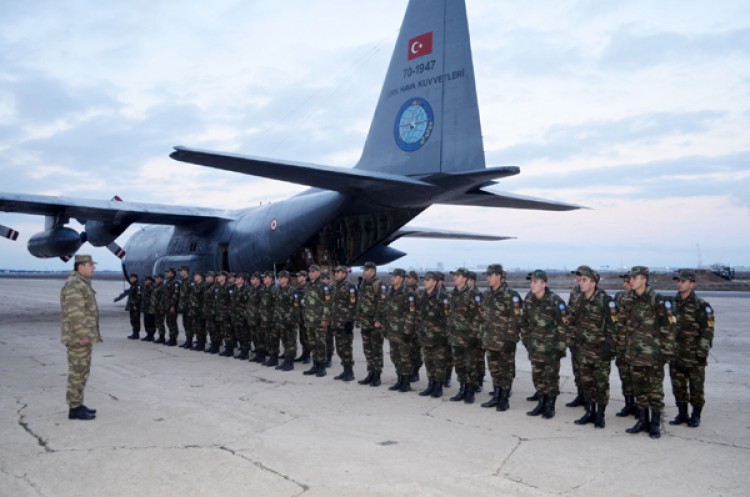 By Sara Rajabova
Another group of Azerbaijani soldiers have seen off to war-torn Afghanistan on a rotating basis.
Thirty-nine peacekeepers of the Azerbaijani Armed Forces, who are serving under the NATO-led International Security Assistance Force in Afghanistan, have been sent to the country, the Azerbaijani Defense Ministry said.
The Azerbaijani peacekeepers will guard the Kabul international airport.
Last October, around 23 people were sent to Afghanistan. In July, group of the Azerbaijani peacekeepers has returned to the country from Afghanistan.
The mission of the armed forces in Afghanistan began on November 20, 2002. 94 Azerbaijani militants, 2 military doctors and 2 officers on engineering still participate in the peacekeeping mission in Afghanistan.
The Azerbaijani peacekeeping contingent in Afghanistan doubled in 2009. A company and then a battalion of peacekeepers were established as part of the Azerbaijani armed forces in 1997.
In the past, Azerbaijan has also actively supported the NATO's operations in Kosovo.
Azerbaijan is among the eight partner countries that have confirmed their presence in Afghanistan after 2014.
Azerbaijan has decided to broaden its activities in Afghanistan's non-military areas. Real cooperation began with Afghan specialists' training in mine sweeping. The preparatory works are underway on Azerbaijani military doctors' activity in Afghan hospitals, education of Afghan people at medical universities, participation of medical personnel in Azerbaijan's educational courses, Afghan military personnel's participation in educational courses at the military academy and other military schools, and Afghan students' education in Azerbaijan.