11 August 2014 15:00 (UTC+04:00)
1 442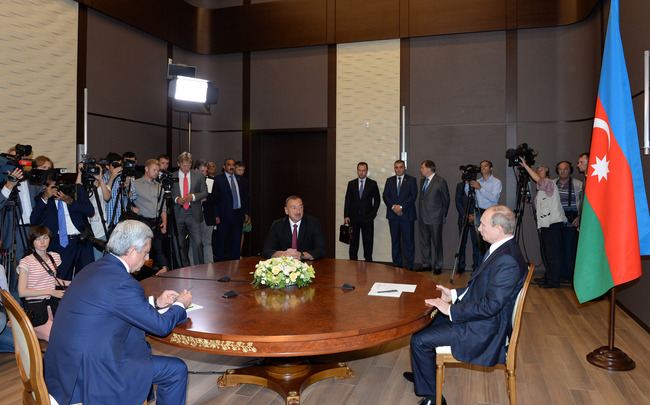 By Sara Rajabova
Following the escalation of the tensions on the contact line of Armenian-Azerbaijani troops, the Azerbaijani and Armenian presidents sat for talks on the Nagorno-Karabakh conflict on the initiative of their Russian counterpart.
Azerbaijani President Ilham Aliyev visited Russia's Sochi city, where he held bilateral and trilateral meetings, on August 9.
President Aliyev and Russian President Vladimir Putin met at the Bocharov Ruchey residence in Sochi on August 9.
The presidents mainly focused on the resolution of the Nagorno-Karabakh conflict. They also discussed Russian-Azerbaijani economic relations, humanitarian ties and other areas of cooperation.
The sides expressed satisfaction with the growth of the bilateral relations in different spheres.
Azerbaijani President noted that the Armenian-Azerbaijani Nagorno-Karabakh conflict, which emerged in 1988 over Armenian's territorial claims against Azerbaijan, has lasted far too long and needs to be addressed.
On the same day, President Aliyev, Russian President Putin and Armenian President Serzh Sargsyan watched Plotforma S-70 international combat sambo championship in Sochi.
Russian Prime Minister Dmitry Medvedev and other officials were also among the guests of honor.
Speaking at a ceremony to award the Russian team, which won the tournament, President Putin said sambo has developed in Azerbaijan. The Russian President thanked President Aliyev for ensuring the inclusion of sambo in the program of the first European Games to take place in Baku.
On August 10, a joint meeting of President Aliyev, Russian President Putin and Armenian President Sargsyan was held in Sochi.
President Aliyev noted during the meeting the necessity of resolving peacefully the Nagorno-Karabakh conflict, stressing that "it has lasted too far."
He expressed hope that Russian Presidents involvement in this process will give a new impetus to the negotiations.
"As you mentioned, there is a format of negotiations, there is also a legal base for the settlement of the conflict. The UN Security Council has adopted four resolutions demanding an immediate and unconditional withdrawal of Armenian occupation forces from Azerbaijani lands. Unfortunately, although more than 20 years have passed, these resolutions remain on paper," President Aliyev said.
He also noted despite the Minsk Group efforts, no tangible results have been gained in bringing about a rapprochement between the parties.
"So I think that as our close friend, partner and neighbor, Russia has a special role to play in the settlement process. We hope that soon, by means of negotiations, by peaceful means, we will find a solution that will comply with international law and justice," President Aliyev said.
President Putin, in turn, said there are some international formats for resolving the Karabakh problem. "We certainly respect all these international formats and will continue working with our colleagues."
He further noted that Azerbaijan's president also underlined the necessity for resolving the conflict by peaceful means.
"This is actually the main thing because there can be no greater tragedy than the killings of people. We should not forget that this conflict emerged long ago. It is a legacy of the past, and we can and should say that it is a legacy of the Soviet Union. We should display patience, wisdom and respect for each other to find a solution. No doubt, any complex situations can be resolved if there is good will. I think that such a good will exists both on the part of the Azerbaijani people and the Armenian people," Putin said.
The two-day working visit of President Aliyev to Russia ended on August 10.
The leaders held negotiations amid sharp aggravation of the tensions on the contact line of Armenian-Azerbaijani troops, resulting in both sides' casualties during the shootings.
Tensions along the frontline were aggravated as Armenian armed forces attacked Azerbaijani positions. Armenia began to escalate tensions on the border areas on July 31. Sporadic fighting has continued ever since. Thirteen Azerbaijani servicemen were killed and several others injured during the clashes between two sides. Armenia hasn't released yet the exact number of casualties.
Armenia captured Nagorno-Karabakh and seven surrounding districts from Azerbaijan in a war that followed the Soviet breakup in 1991. More than 20,000 Azerbaijanis were killed and nearly 1 million were displaced as a result of the war.
Large-scale hostilities ended with a Russia-brokered ceasefire in 1994 but Armenia continued the occupation in defiance of four UN Security Council resolutions calling for immediate and unconditional withdrawal.
Peace talks mediated by Russia, France and the U.S. have produced no results so far.
Related News