11 July 2014 16:04 (UTC+04:00)
1 356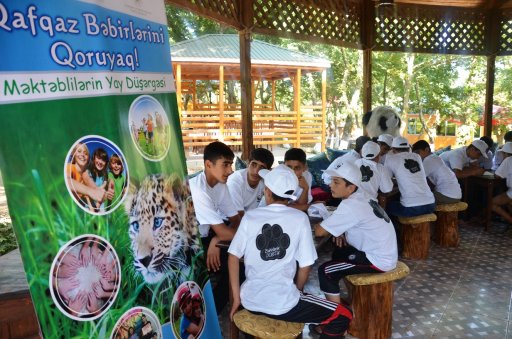 By Nigar Orujova
"Protecting leopards!" summer camp for schoolchildren was launched in Azerbaijan.
The International Dialogue for Environmental Action Public Association (IDEA) and the Azerbaijani representation of the World Wide Fund for Nature (WWF) have opened the camp for more than 30 pupils with the support of the Heydar Aliyev Center and the Education Ministry.
The camp is functioning in the framework of the "Protection of Caucasian Leopards" project in the southern Masalli region of the country, IDEA reported.
The summer camp's main goal is to educate schoolchildren living near the habitats of Caucasian leopards about this unique species and encourage its protection.
During the three-day camp, children will gather information about the lifestyle and natural habitat of leopards and their significance, and also take part in various environmental studies, quizzes, and competitions.
A project aimed at protecting Caucasian leopards has begun in 2002. During this period, it was revealed that leopards live in four areas of Azerbaijan, and the protected habitat areas of leopards were increased fourfold. Today, monitoring these animals is done on the Zangazur ridge and in the Hirkan forests.
The Ministry of Ecology and Natural Resources adopted a National Action Plan to strengthen the protection of leopards in 2009.
Activities in the field of leopards protection within the "Big Five" program, which was initiated by Vice President of the Heydar Aliyev Foundation, founder and head of IDEA Leyla Aliyeva and covers the protection of five endangered species of fauna (bear, wolf, gazelle, eagle, leopard) in the Caucasus, is bearing fruit.
One of the important measures implemented in this area is holding the Caucasus Biodiversity Summit on May 7.
Attended by leading experts of the world, the summit has become one of the major events in protecting the leopards living in the Caucasus.
Addressing the summit, Leyla Aliyeva stressed that it is difficult to hope for the protection of the environment without young people's support.
It was also noted that holding summer camps following the summit is advisable for attracting young people from an early age to the protection of nature and biodiversity, thus increasing their activities in this field.
The Caucasian Cat Summit was also held on May 7. The event provided opportunities for exchanging knowledge and experience in the protection of leopards and other felines.
Related News