27 March 2014 14:13 (UTC+04:00)
1 759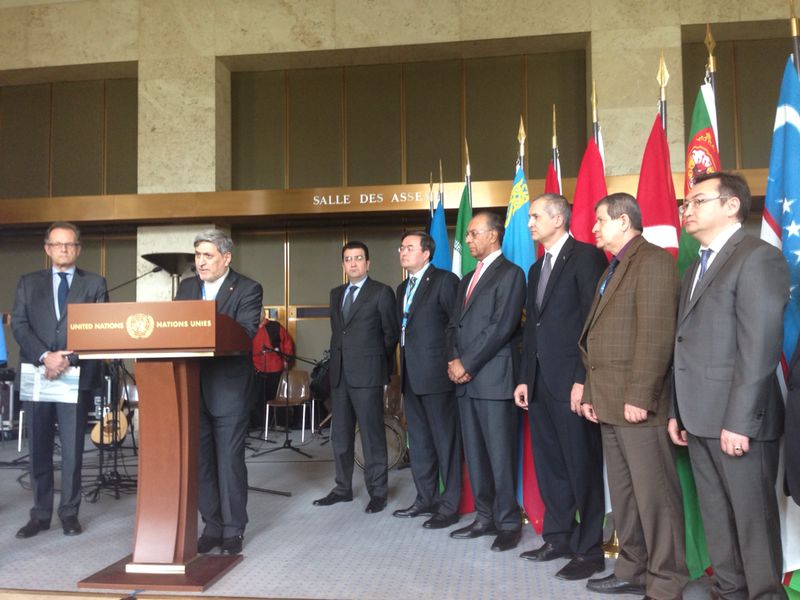 By Nazrin Gadimova
The International Novruz Day was organized by the Permanent Missions of Azerbaijan, Afghanistan, Iran, Kyrgyzstan, Tajikistan, Turkey, Kazakhstan, Turkmenistan, and Uzbekistan in Geneva-based United Nations Headquarters on March 25.
The event, held in accordance with the resolution adopted at the 64th session of the UN General Assembly on the initiative of Azerbaijan, brought together UN's permanent representatives accredited in the Geneva office, other members of the diplomatic corps, representatives of the secretariat of the UN Office in Geneva, international organizations in Geneva, city officials, media representatives and members of the Diaspora.
Addressing the event, Acting Head of the UN Office at Geneva, Michael Møller said the Novruz traditions and customs, being an important component of the cultural heritage, has contributed to the world of art and culture.
He also highlighted the organization of this event as the cultural cooperation of the permanent missions.
Also, Møller, on behalf of the UN General Assembly, praised the assignment of the international status to Novruz Holiday.
Participants of the event had an opportunity to try the holiday sweets, samples of national cuisine, get acquainted with the history and culture of the country, as well as to visit exhibition featuring various documents and photographs.
The UN General Assembly declared March 21 as the International Day of Novruz in 2010. The holiday was also added to the Representative List of Intangible Cultural Heritage of Humanity administered by the UN Educational, Scientific, and Cultural Organization (UNESCO).
Related News