18 February 2014 14:10 (UTC+04:00)
1 352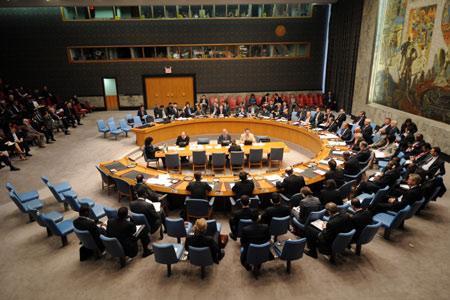 By Sara Rajabova
UN Secretary General has been informed about the increasing ceasefire violations by the Armenian armed forces on the contact line between the Armenian and Azerbaijani troops since January.
Azerbaijan's permanent representative to the UN Agshin Mehdiyev sent a letter to Ban Ki-moon regarding this issue, the Permanent Mission of Azerbaijan to UN said.
Ban was informed about the ceasefire violations on the contact line, and it was noted in the letter that as a result these violations two officers of the Azerbaijani Army were killed by a sniper and one soldier was wounded in January.
Armenia often shells settlements and civilian objects, including schools and medical facilities, consequently wounding civilians and causing great damage to their property, the letter added.
The Azerbaijani Ambassador emphasizes that the situation on the contact line has remained tense in February despite the fact that Armenian and Azerbaijani presidents pledged to respect the ceasefire on the contact line during the Olympic Games in Sochi.
Under-Secretary-General for Humanitarian Affairs Valerie Amos, Under-Secretary-General for Peacekeeping Operations Herve Ladsous, High Commissioner for Human Rights Navi Pillay, and Director General of the International Committee of the Red Cross (ICRC) Yves Daccordalso stressed the importance of protecting civilians in armed conflicts during the UN Security Council's open debate on the subject on February 12.
Related News