17 January 2014 19:11 (UTC+04:00)
1 861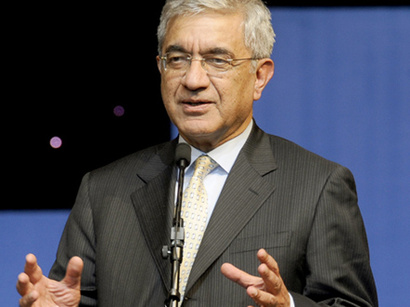 By Nigar Orujova
Establishment of ADA University will provide the students with a higher level of education in various fields including diplomacy, the deputy foreign minister, and the rector of the Azerbaijan Diplomatic Academy (ADA), Hafiz Pashayev said at a press conference on January 16.
The university is being launched under the Azerbaijani President Ilham Aliyev's order, which was issued on January 13.

ADA University will be established under the Foreign Ministry on the basis of ADA acting under the Foreign Ministry, and the Information Technologies University acting under the ICT Ministry.
The University will train staff for all stages of higher education, develop a program on higher and supplementary education, and carry out fundamental and applied scientific researches.
"With the creation of the ADA University we turn to teaching in a broader range of areas," Pashayev said.
Ha went on to note that during the years of its existence, Azerbaijan Diplomatic Academy has gone far beyond teaching in the field of diplomacy, and the idea of creation ​​of a university has appeared long ago.
"Over the years of its activity, our Diplomatic Academy has won a great fame far beyond our country. ADA uses the latest teaching methods, gaining a high respect to our institution abroad," Pashayev said.
Establishing the ADA University is expected to attract more students from different countries to study in Azerbaijan. Currently, 42 foreign students from 27 countries are enrolled at the four faculties of ADA.
The Diplomatic Academy has signed over 30 cooperation agreements with many well-known international universities to provide their support to the new higher education institution in Azerbaijan.
"We are planning to organize the learning process in new directions such as cyber security and computer engineering in the established university. Admission of students in these two directions has already been held," Pashayev said.
The university also plans to cut funding from the state budget to 30 percent from the overall financing of the university by 2016-2017.
ADA, from opening its doors to students in January 2007, has dedicated to preparing innovative global leaders and to promoting useful collaborative research on diplomacy, public and international affairs, business, humanities and sciences, information technologies and system engineering.
The ICT University was established under a presidential order on February 2013, the Year of ICT in Azerbaijan.
Related News