18 October 2013 14:17 (UTC+04:00)
889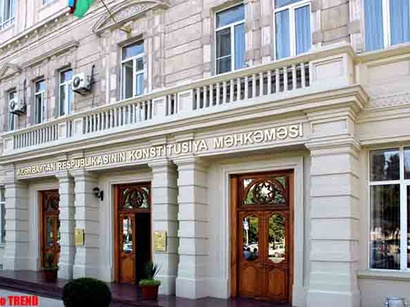 By Nazrin Gadimova
Azerbaijan's Constitutional Court will consider the final report on the recent presidential elections on October 19, the court said.
The Central Election Commission (CEC) sent the final report on the October 9 elections to the top court for approval on October 17.
According to the requirements of the Electoral Code, the CEC prepared a report on election results signed by the commission, which was sent to the Constitutional Court for endorsement.
CEC's Chairman Mazahir Panahov has said the final feedback on the election is grounds to say that the elections were held in an organized manner and voters came to polling stations without problems.
The voting process took place at 5,192 polling stations under the surveillance of webcams, local and international observers.
According to Panahov, the CEC did not receive complaints over serious violations, and there were no instances that could question the election.
Ilham Aliyev, the candidate of the ruling Yeni Azerbaijan (New Azerbaijan) party, won the presidential elections with 84.54 percent of votes (3,126,113 voters).
Presidential candidate Jamil Hasanli ranked second after gaining 5.5 percent of the popular vote.
Other presidential candidates ranked as follows: Igbal Agazade with 88,723 votes (2.4 percent), Gudrat Hasanguliyev with 73,702 votes (1.9 percent), Zahid Oruj with 53,839 votes (1.4 percent), Ilyas Ismayilov with 39,722 votes (1.07 percent), Araz Alizade with 32,069 votes (0.88 percent), Faraj Guliyev with 31,926 votes (0.86 percent), Hafiz Hajiyev with 24,461 votes (0.66 percent), and Sardar Mammadov with 22,773 votes (0.61 percent).
Related News