Azerbaijan offers Russia to create tourist route along Volga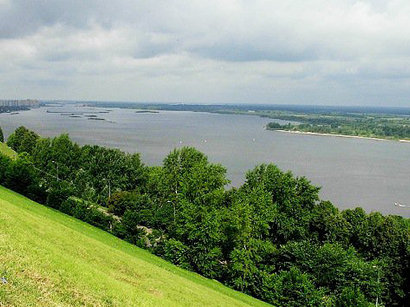 By Nigar Orujova
Azerbaijan Tourism Association (AzTA) offers to create a wondrous tourist route along the Volga River, ATA chairman's advisor Muzaffar Agakerimov told the local press on August 22.
According to Agakerimov, the proposal has been brought to the attention of Astrakhan Shipping Company. Talks on implementing the proposal are underway.
According to the project, tourists can travel from the southern Russian city of Astrakhan to Moscow and back in 18 days on boat.
"It will be a wonderful journey along the Volga. This is what we were negotiating upon with the Astrakhan Shipping administration. But later these negotiations were suspended for some reason. Currently, we are negotiating on this issue," Agakerimov said.
He said that at present, the issue is to determine the prices of tourism services provided for this route. The Association is committed to ensuring that these services will be available for tourists, especially for Azerbaijani ones.
"Our idea is that in the beginning we will not rent a boat, but form tourist groups first. If tourists like this trip and take interest in it, we will rent a separate vessel," Agakerimov said.
He noted that trips from Azerbaijan to Batumi in Georgia were initially carried out for small groups. As a result, the interest of Azerbaijani tourists in Batumi has increased.
AzTA aims to support the development of the tourism sector, to create strong relations with those working in this sector, help to overcome existing problems, work on tourism projects and implement them, organize conferences, seminars and forums, maintain relations with other international tourism organizations, and implement successful international tourism projects.