Azerbaijani occupied town twinned with Hungary's Tiszavasvari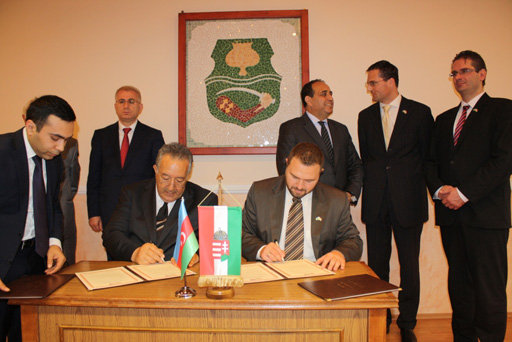 By Sara Rajabova
Another Hungarian town, Tiszavasvari, has become twinned with an occupied Azerbaijani town, Aghdam, the Azerbaijani embassy in Hungary said.
A relevant document was signed by Tiszavasvari Mayor Erik Fulop and Head of Agdam Region Executive Authority Nizami Sadigov on June 7.
Sadigov spoke about the Agdam region, its condition before the war fought with Armenia and its current plight, as well as the considerable material and moral damage inflicted by Armenian invaders, and the extensive restoration work underway in the part that is not under the occupation.
Armenia occupied over 20 percent of Azerbaijan's internationally recognized territory, including Nagorno-Karabakh and seven adjacent regions, after laying territorial claims against its South Caucasus neighbor that sparked a lengthy war in the early 1990s. The UN Security Council has adopted four resolutions on Armenia's withdrawal from the Azerbaijani territory, but they have not been enforced to this day.
The Armenian invaders occupied most of the territory of Agdam on July 23, 1993. They seized 882 sq. km of the 1,094 sq. km territory of Agdam, including one city and 80 villages. Over 6,000 people died during the battles in Agdam. Some 128,000 people became internally displaced persons.
As a result of the occupation of Agdam, Azerbaijan has sustained material damage worth a staggering $6.179 billion. The damage rendered to the region's agriculture alone is estimated at 992.8 million manats ($1.272 billion).
Strongly condemning the aggression, Fulop said that the Hungarian people are familiar with the suffering faced by Agdam residents and the Azerbaijani people as a whole. He said that by signing the document on twinning, Tiszavasvari morally supports Azerbaijan and the Azerbaijani people.
According to the document, the Azerbaijani and Hungarian twin towns will expand the economic and cultural relations, provide mutual support in protecting the business interests and organizing tourist trips. Moreover, special attention will be paid to the promotion of Azerbaijan's realities in Hungary, in particular, informing people about the bitter consequences of the Armenian aggression in Nagorno-Karabakh and Hungary's realities in Azerbaijan.
Speaking at the signing ceremony, Azerbaijani Ambassador to Hungary Vilayat Guliyev, MPs representing the Agdam region at the Azerbaijani Parliament, Agil Abbas and Bakhtiyar Aliyev, as well as Hungarian MPs, chairman of the Azerbaijan-Hungary parliamentary friendship group Marton Dendoshi and chairman of the Hungary-Turkey friendship group Tamas Hegedus stressed that this event opened a new page in the relations between the peoples of the two countries.
They added that the town twinning reflected significant moral support for Azerbaijan's just cause.
Earlier, a joint declaration on twinning of the Hungarian city of Gyongyos and the occupied Azerbaijani town of Shusha was signed in Hungary.
The document covered establishing economic, cultural and humanitarian relations, cooperation in the fields of tourism and education, dissemination of information about the Nagorno-Karabakh conflict and Shusha in Hungary, and information exchange.