Azerbaijani president meets Serbian deputy PM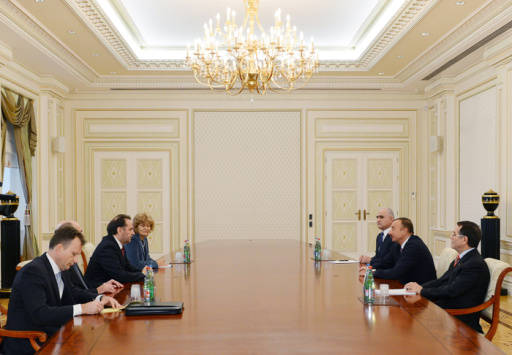 Azerbaijani President Ilham Aliyev met on Monday a Serbian delegation led by Rasim Ljajic, deputy Prime Minister of Serbia, Minister of Foreign and Internal Trade and Telecommunications, co-chair of Serbia-Azerbaijan Intergovernmental Commission on Economic Cooperation.
President Ilham Aliyev praised Azerbaijan-Serbia cooperation in various fields. The president expressed hope that partnership relations between the two countries would further continue. The president underlined the importance of the next meeting of Azerbaijan-Serbia Intergovernmental Commission for strengthening of bilateral relations. President Aliyev also stressed the necessity of expansion of cooperation between the two countries within international and regional organizations.
Rasim Ljajic said relations between Azerbaijan and Serbia were developing successfully. He also stressed the importance of high-level reciprocal visits in expansion of bilateral cooperation.
Rasim Ljajic thanked the Azerbaijani government for the implementation of various projects in Serbia. He underscored the significance of these projects in strengthening of cooperation.