Erdogan thanks President Ilham Aliyev & First Lady Mehriban Aliyeva for standing by Turkiye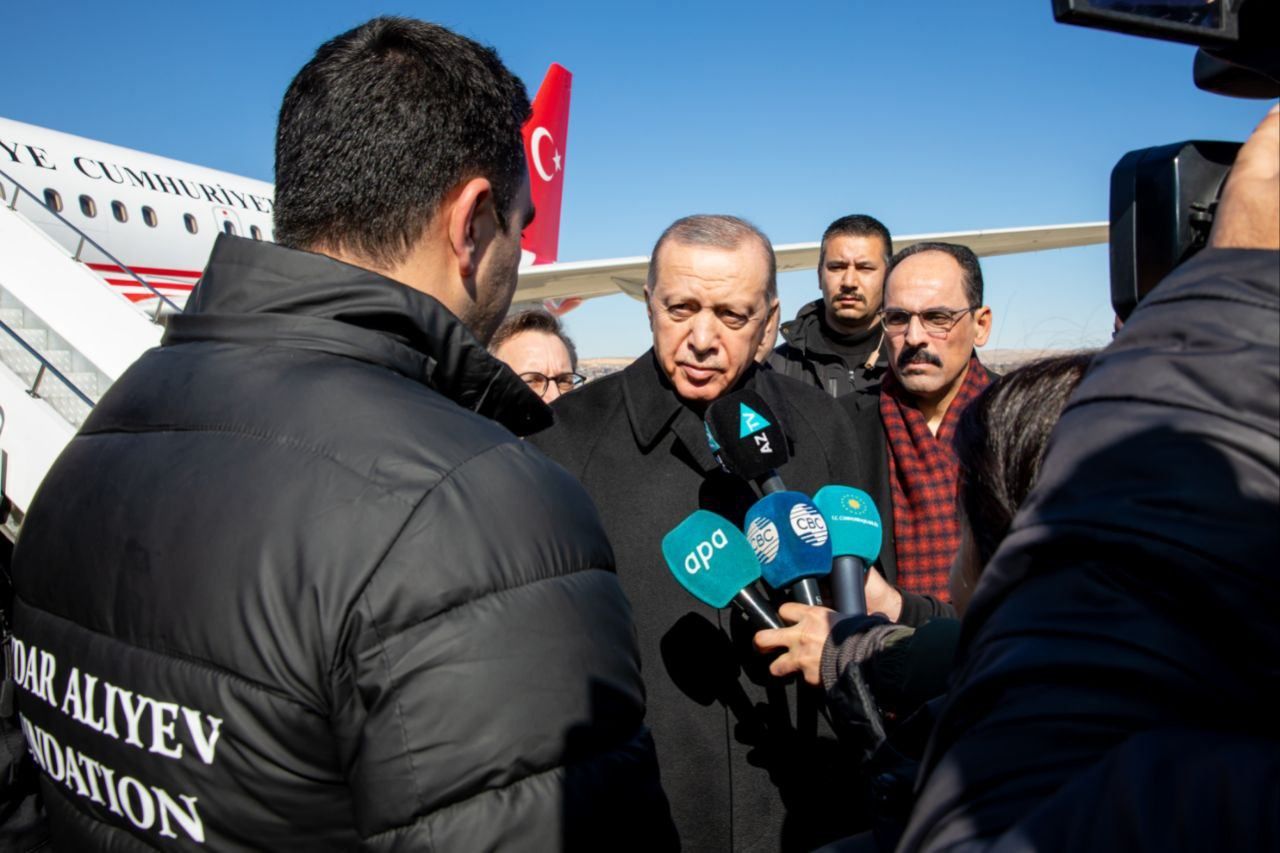 Turkish President Recep Tayyip Erdogan has thanked Azerbaijani President Ilham Aliyev and First Lady Mehriban Aliyeva, Azernews reports.
Visiting quake-hit provinces, Turkish President Recep Tayyip Erdogan met with staffers of the Heydar Aliyev Foundation at the Gaziantep airport, providing humanitarian aid to Turkiye on the instructions of Mehriban Aliyeva, the First Lady of Azerbaijan and the President of the Heydar Aliyev Foundation.
Expressing Mehriban Aliyeva's condolences on the tragedy, the representative of the Foundation, Elvin Aslanov, noted that all the people of Azerbaijan, and all organizations in Azerbaijan are mobilized to provide the necessary assistance to Turkiye.
Recep Tayyip Erdogan expressed his gratitude for the mobilization of the Azerbaijani state and people around the tragedy in Turkiye.
"On my own behalf, on behalf of my nation, I'd like to express my deep gratitude to my brother Ilham Aliyev and sister Mehriban Aliyeva!" he said.
Noting that he is aware of the Azerbaijani people's collecting humanitarian aid to support the quake victims, President Erdogan said that just as Turkiye stood with Azerbaijan during the second Karabakh War, so now, at these difficult moments, Azerbaijan stands by Turkiye.
"I express gratitude on my own behalf, on behalf of my family, and on behalf of the Turkish people. We're together not only these days, we are together forever. We will continue our journey as one nation, two states!" the Turkish president added.
---
Follow us on Twitter @AzerNewsAz