Ilham Aliyev, his spouse meet Azerbaijani Olympians PHOTO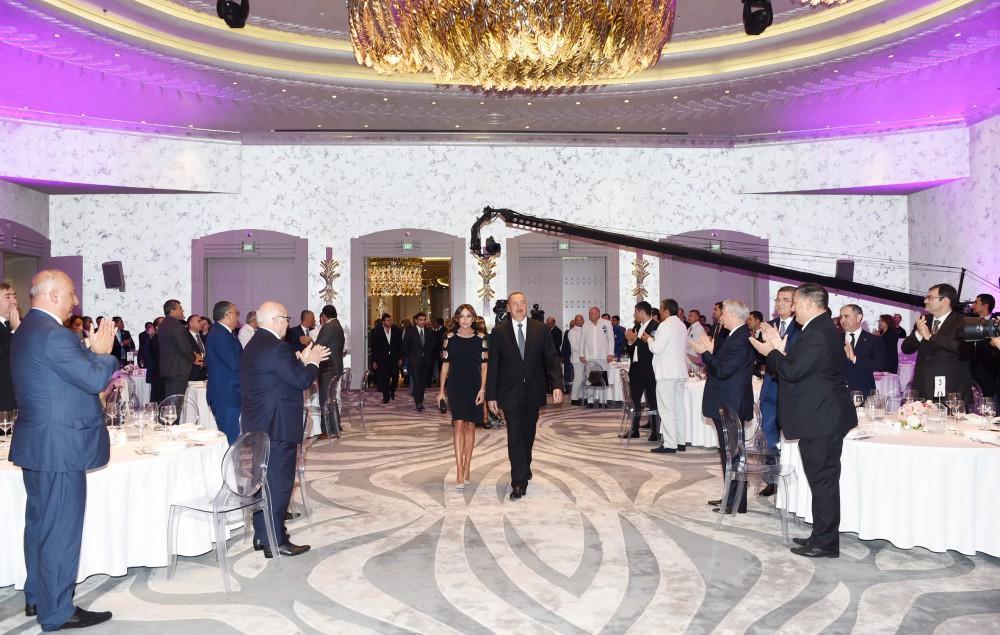 President of the Republic of Azerbaijan, President of the National Olympic Committee Ilham Aliyev has today met with athletes who competed in the 31st Summer Olympic Games held in Rio de Janeiro, Brazil, and their coaches.
The Azerbaijani President, his wife Mehriban Aliyeva and family members were warmly welcomed by the meeting participants, Azertac reported.
The head of state made a speech at the event.
"Dear sportsmen, dear friends!
Team Azerbaijan won a grand and historic victory at the Rio Olympic Games. I congratulate our athletes and all the people of Azerbaijan on this victory once again.
This is a historic victory indeed. Azerbaijani athletes won 18 medals at the Olympic Games in Rio. This is a record figure. One of them is gold, seven silver and 10 bronze medals. This shows that Azerbaijan is a sports nation. I have repeatedly said this and I want to say it again. Life and the results of our athletes confirm this yet again. For the number of medals Team Azerbaijani shared 14th-15th places. We are in seventh place among European countries, second among the republics of the former Soviet Union and first among Muslim countries. The people of Azerbaijan are delighted with this magnificent victory. The Azerbaijani people are proud of their athletes, and I congratulate you on this wonderful victory once again.
Azerbaijan is a country of sports. By pursuing a focused sports policy, we managed to achieve excellent results. In 1996, Azerbaijan time took part in the Summer Olympics as an independent state for the first time. We won only one medal then. After that, we have improved our performance in all subsequent Olympic Games: in 2000 we won three medals, in 2004 five, in 2008 seven and in 2012 we won 10 medals. We believed that it was a good result, and it is really the case. After all, Summer Olympics bring together the best athletes of the world, and it is not so easy to win a medal there. However, the fact that we have won 18 medals this time suggests that Azerbaijani sport has grown rapidly over the past four years, of course.
We are among the world's strongest sporting nations. We are showing the world that sport in Azerbaijan is developing, that a great new generation is growing up, and that sport is an indicator of the overall development of any country. If we look at leading sporting nations, we can see that the vast majority of them are developed countries because developed countries provide greater support for sport, have more financial opportunities and the best conditions for the athletes. And, of course, the results show themselves. Our successful economic development and sound policies have taken Azerbaijan into the ranks of world's sporting elite. It makes me very happy. As you know, sport plays an important part in my life. For 19 years, I have been president of the National Olympic Committee and am fulfilling this mission. I remember that when the sports community of Azerbaijan showed confidence in me in 1997, sport was not in very good condition in the country. Athletes were leaving our country, some were not doing the right things. And this is true. We did not have the financial capacity to take care of sports. In addition, there was no unity among the agencies governing sport.
I remember that there was confrontation and standoff between the National Olympic Committee and the Ministry of Sport at the time. Of course, this had a very negative impact on the development of sport. My main task – and I openly said it then – was to create a unity among the bodies governing sport, to work as one team, to create suitable conditions for the athletes and then expect results from them. After all, if there are no conditions, it is impossible to expect a result, and by pursuing a consistent policy, we achieved excellent results today.
Our athletes always achieve good results in various international competitions, European and World Championships. Young athletes delight us. The younger generation is growing up. And this is a very important issue. If the younger generation doesn't get engaged in sport, then, of course, there can be no talk of success. To attract the younger generation to sport, we need to create favorable conditions first. We are creating them. We have opened our modern Olympic centers in more than 40 cities. The victories of our famous athletes provide further incentive, of course. The children, teenagers and those who are engaged in or want to be engaged in sports look at our champions, rejoice in their success and want to be like them. So all of these factors serve the development of sports. Therefore, by pursuing our policy, we take all these factors into consideration. It was necessary to create proper conditions for the athletes. It was necessary to restore the authority of being a sportsman in society, and we have done that. We have taken the necessary steps to organize training camps for our athletes. We have attracted sports specialists, reinforced the coaching staff and, of course, the result is obvious. If all these measures had not been taken, it would be impossible to expect good results, of course.
Today, Azerbaijan has asserted itself in the world as a sporting nation. The Olympic Games in Rio have also shown that the successes we achieved in previous periods were not accidental. Last year, the first European Games in history were held in Baku. Azerbaijani athletes finished in second place in team standings. Some reacted to this with amazement. In other words, it came as a surprise for some sports professionals. They thought that some special conditions may have been created for our athletes at home. This was not the case, of course. In fact, the injustice of some referees during the European Games in Baku actually hampered our athletes in some cases. Similarly, we should have won more gold medals in Rio too. This is well known to you, the Azerbaijani public and those interested in sports. The results of the Rio Olympic Games suggest that our achievements in European Games were not accidental.
We are a sports nation. We are in leading places in all ratings. After the Olympic Games, analyses have been made on several parameters – the number of medals in proportion to a country's population and the number of medals in proportion to the Gross Domestic Product. On both ratings, we are in top 10. For the number of medals in proportion to the total number of participating athletes, we are in first place. We were represented at the Olympics by 56 athletes and won 18 medals. So we are first in the world by this criterion. I congratulate you on this wonderful event and excellent result again.
Of course, the results of the Games will be analyzed, so that we could expect even better results in the future. However, in meetings with athletes after Olympic Games, I note that this is a very good result and it will be hard to improve it. I remember saying after our athletes had returned from London four years ago that we had won 10 medals and that it would be difficult to win more next time. We have won 18 medals now and, of course, this makes our work in Tokyo a bit more difficult. Despite this, I am sure that Azerbaijani sportsmen will represent our country properly in Tokyo.
Of course, any country and its people want their athletes to win more medals. We want this too. Along with this, we want sport in Azerbaijan to be widespread. Very important steps have already been taken in this direction. The spread of sport means a healthy nation and a healthy lifestyle. Our athletes, I mean our outstanding athletes and champions, act with dignity in private life and in competition. Even when they were faced with injustices and I would even say falsification of some referees at the Rio Olympic Games, they did not vent their emotions and acted with dignity. It was a severe moral blow to them because their victory was rudely, brazenly and shamelessly taken away from them right in the eyes of the whole world. But look how our athletes acted with dignity. This suggests that our athletes have a very strong moral core. They are an example for the young generation, and their behavior – let me say that I watch their activities and their lives too – their actions in society please us. They are examples and role models for our young athletes. I am sure that young athletes will follow the example of the sportsmen sitting here and try to become like them. Therefore, sport plays a very important role in society. It is not only about a physical competition. It is about morality. It is about a healthy lifestyle. It is about dignity. Someone confident of his own strength will never use it against the weak. Of course, he can and should provide the necessary response in self-defense. Sport is just like life. But he should not be the initiator of this, and I am happy that our athletes are like that.
You have delighted the Azerbaijani people. In Rio, the flag of the independent Azerbaijan was raised 18 times. When you consider that we will celebrate the 25th anniversary of the restoration of our independence in one month, this is a wonderful gift of Azerbaijani athletes for the 25th anniversary of our independence. The entire Azerbaijani people are proud of you. I am proud of you. I thank you, I wish you every success, I kiss and hug you! Long live Azerbaijani sportsmen!"
Then orders of President Ilham Aliyev to award members of Azerbaijan national Olympic team were read out.
The head of state presented "Honorary diploma of the President of the Republic of Azerbaijan", "Taraggi" medals, "Shohrat" and "Service to Motherland" orders to a group of athletes and their coaches for their contribution to the development of sports in Azerbaijan and their high achievements in the 31st Summer Olympic Games.
Addressing the event, senior coach of the Azerbaijan freestyle wrestling team Firdovsi Umudov, personal coach of Togrul Asgarov, the silver medalist of the 31st Summer Olympic Games, Elchin Zeynalov, coach of the men's national taekwondo team Elnur Amanov, silver medalist of the Olympic Games, judo fighter Elmar Gasimov, silver medalist of the Rio Olympics, wrestler Mariya Stadnik thanked the head of state for his great attention to the development of sports in the country.
President Ilham Aliyev also met with Zabit Samedov, who sealed WBC Muay Thai world title at a tournament commemorating the first President of Chechnya Akhmad Kadyrov in Grozny, and congratulated him on his victory.
President Ilham Aliyev then posed for photographs with Olympians and their coaches.