12 February 2019 14:25 (UTC+04:00)
7 287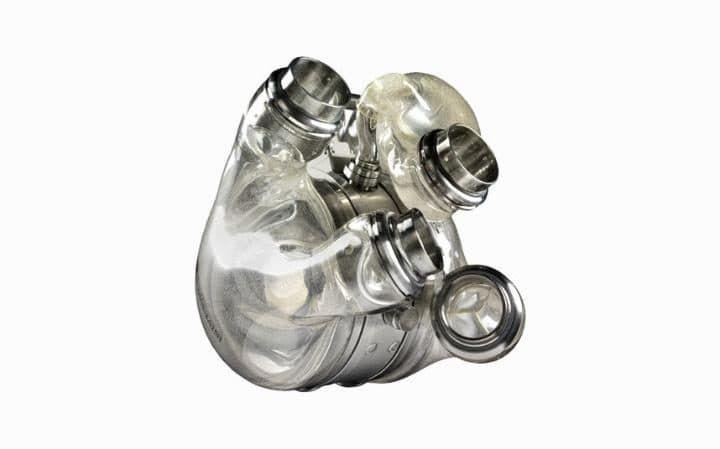 By Mirsaid Ibrahimzade
Highly qualified cardiovascular surgeon Anar Amrah and his team has performed an artificial heart implant surgery for a patient with a diagnosis of severe heart and pulmonary insufficiency.
This kind of surgery was performed for the first time in Azerbaijan.
The 55-year-old patient, who has repeatedly undergone treatment in Azerbaijan and several foreign countries, finally turned to the Republican Therapy Diagnostic Center.
Cardiologists Abbasali Abbasaliyev and Shahin Khalilov conducted a complete medical examination, after which cardiovascular surgeon Anar Amrah and cardiologists concluded that the patient's only hope was a transplant or artificial heart implantation.
"The patient must be constantly under medical supervision and take special medications. The batteries of the device should be changed every 24 hours. Then the patient can easily go in for sports, swim or ride a bike." said Anar Amrah.
An artificial heart is a device that replaces the heart. Artificial hearts are typically used to bridge the time to heart transplantation, or to permanently replace the heart in case heart transplantation is impossible.
Although other similar inventions preceded it from the late 1940s, the first artificial heart to be successfully implanted in a human was the Jarvik-7 in 1982, designed by a team including Willem Johan Kolff and Robert Jarvik.
Generally, in Azerbaijan, the number of surgeries has tripled in the past 12 years and especially, an increase was observed in number of surgeries performed for cardiovascular diseases caused by the recent growth of people suffering from cardiovascular disorders in the country, according to the Azerbaijani Health Ministry.
Nowadays, a number of diseases with previously ineffectual remedies is being treated, complicated surgeries, such as liver, bone marrow transplantation, artificial joint and open and closed heart surgeries are carried out.
These surgeries have been carried out in Azerbaijan for 15 years. According to the country's laws, organs can be transplanted only from a living donor. Annually, about 1,500 people in Azerbaijan need a donor, but since the organs cannot be taken from the corpse, only 100-120 operations for the transplantation of organs of living people are carried out.
A special working group has been set up to determine terms and conditions for cadaveric transplantation, technical specifications for clinics in order to create a legal framework which would allow transplantation from the corpse.
Importation of the cornea and surgeries for its transplantation to patients are other remarkable examples of local medical industry. As for 2018 data, 3,000 patients waiting for corneal transplantation have been registered at the National Ophthalmology Center.
So, implantation of artificial heart has become the next significant step in this sphere of medicine in Azerbaijan.
--
Follow us on Twitter @AzerNewsAz