Russian academic publication covers Irevan carpets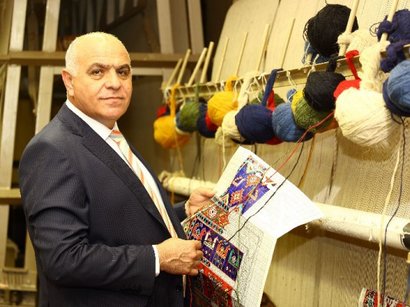 By Nigar Orujova
One of the leading scientific publications of Russia "Modern Scientific Thought" has published an article by Azerbaijan's Honored Art Worker, Professor Vidadi Muradov, Azer-Ilme company reports.
Vidadi Muradov, head of Azer-Ilme, is the author of a large-scale research projects such as "Azerbaijani carpets". He also produces brochures and magazines on national carpet weaving.
The article with the title "The Irevan group of Azerbaijani carpets" was published in the history section of the Russian magazine.
This is the first scientific article that gives objective information about the Irevan group of Azerbaijani carpets in Russian scientific publications, the Azer-Ilme said.
In the article, Professor Muradov presents detailed information about the ethnic composition, employment of the population of Azerbaijani land, the Irevan Khanate, the advanced crafts as well as carpet making and dyeing in the region.
The scientist classified pile and pileless carpets by Agbaba, Shorayel, Loru, Pembek, Shemsheddin, Goyche, Gernibasar, Vedibasar, Girkhbulag, Ashterek, Zengezur, Dereleyez and other regions and researched their evolution in the historical and literary contexts basing on folklore and traditions.
With a comprehensive analysis of the similar and different aspects of Irevan carpets with patterns of other carpet groups and a detailed comparison of the semantic features and pursuing of the pattern and ornament system, the article serves as a culturological reference to the fact that Irevan, currently called the territory of Armenia is the ancient land of Azerbaijan.
The founder of the magazine is Russian Research Institute of History, Economics and Law and the Chief Editor is Doctor of Historical Sciences, Professor Igor Turitsin.
By introducing Azerbaijani carpets to the world, the Azer-Ilme company contributes to the development of the traditional art of carpet weaving in Azerbaijan, which has made an invaluable cultural and material contribution to the world civilization.
For 20 years, the company could vigilantly guard Azerbaijani carpet art and gain glory and success.
In this April, the company opened 'Azerbaijani carpets', the legend of nodules' gallery-boutique in Kuznetsky Bridge Street in Moscow, the first official Azerbaijani carpets' store in Russia. A collection of old and modern masters of Azerbaijani needlework is available at the gallery-boutique.
Azer-Ilme has set up workshops in ancient historical centers of carpet weaving as Absheron, Karabakh, Gazakh, Guba, Ganja, Lerik, Shirvan, and Sheki. The company continues its fruitful creative searches by attracting 700 professional artists on carpet, carpet weaving craftsmen, restorers and color masters, qualified teachers, weavers in various regions of the country.
The company has put on display splendid Azerbaijani carpets in America's Atlanta, Germany's Hannover, and Russia's Moscow.