Gabala to host int'l music festival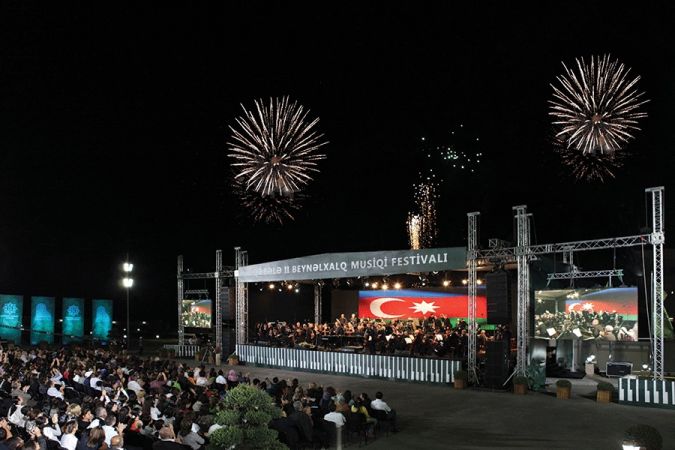 By Nigar Orujova
Azerbaijan's northern city of Gabala will host the sixths International Music Festival on July 23-August 1.
The festival, an international project of the Heydar Aliyev Foundation will bring together art collectives, soloists and conductors from Azerbaijan and other countries.
This year, the traditional festival will present music from Russia, Turkey, South Africa, the U.S., Canada, France, Austria, Israel, Ukraine and Korea.
The festival is also expected to be attended by world-renowned bands such as Johannesburg Philharmonic Orchestra, Israel "Brass quintet", "Kyiv Soloists" chamber orchestra, soloists of the Vienna Academic Orchestra, ballet of Tel Aviv.
Oksana Yablonsky, Dmitry Yablonsky, Julian Rachlin, Gil Shohat, Tatiana Shafran, Chen Zimbalista, Janna Gandelman, Mira Awad will show their art to the music lovers.
Azerbaijan State Symphonic Orchestra named after Uzeyir Hajibeyli will represent Azerbaijan in the festival. The orchestra members include Farhad Badalbeyli, Rauf Abdullayev, Murad Adigozalov, Yalcin Adigozalov, Yegane Akhundova, Ali Askerov, honored art worker Fahraddin Kerimov, honored artists Gulnaz Ismayilova, Farida Mammadova, Sabina Asadova, Sahib Pashazade, laureates of international competitions Yusif Eyvazov, Azer Rzazade, Kamran Omarli, talented young soloists, music performers and others.
The grandiose music festival will be held with organizational support of the Culture and Tourism Ministry.
As a celebration of friendship and music, Gabala festival is aimed at promoting Azerbaijani music traditions in the world. It also invigorates intercultural dialogue and creates favorable conditions for cooperation among musicians representing different countries.
The picturesque nature of the region and the glorious music of festival will strongly affect the public.
Gabala stage has already hosted performances featuring works by Azerbaijani and foreign composers, classical and chamber music, as well as Azerbaijani folk music Mugham.
The festival is traditionally held in the Chamber Music Hall of the city every day at 6 p.m. and in the open air at 9 p.m. from July 23 to August 1, except for July 25, when the hall will await the public at 12 p.m., and the open stage concert will be held at 6 p.m. and 9 p.m.