7 July 2014 17:21 (UTC+04:00)
1 464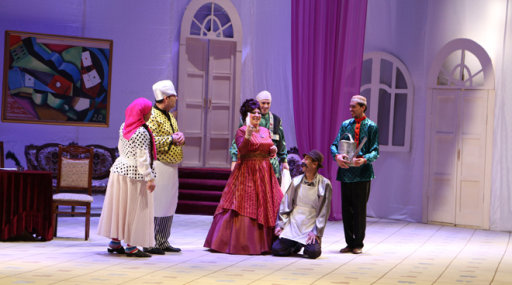 By Nigar Orujova
The 104th theatrical season of Azerbaijan State Musical Theater came to an end with a standing ovation.
The theatre finished the season with "Husband and Wife" performance, a musical comedy in three acts by prominent Azerbaijani composer Uzeyir Hajibeyli.
Traditionally, the State Musical Theatre opens and ends its seasons with this play.
Director of the comedy was Yusif Akperov and its conductor, honored artist Nazim Hajialibeyov.
The performance gathered together different artists like Ilham Namik Kamal, Afaq Bashirgizy, Fatma Mahmudova, honored artists Alekper Aliyev, Akbar Alizade and Guljahan Salamova, Alimammad Novruzov, Husseyin Alili, and Agakhan Sharifov.
As always, the performance of this musical comedy was a full house.
Founder of the Azerbaijan classic music Uzeyir Hajibayov wrote Azerbaijan's first musical comedies. His three operettas "Husband and Wife", "If not that one, then this one" and "The Cloth Peddlar" have not lost their relevance until today, attracting audiences with sharp satire and delicate humor.
"Husband and Wife" operetta was created in 1909 and staged for the first time on May 24, 1910. This date is associated with creation of modern Azerbaijan State Musical Comedy Theater.
The three-act "Husband and Wife" comedy is about families and their everyday life, oppression in the families and the statues of Azerbaijani women in society.
Related News