27 June 2014 13:45 (UTC+04:00)
1 935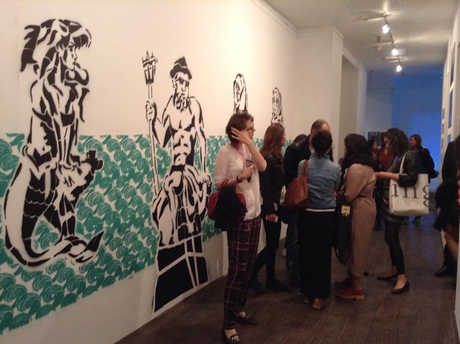 By Nigar Orujova
Moscow Museum of Modern Art is hosting an exhibition of young Azerbaijani artists entitled "ASTAR".
Museum of Modern Art in Moscow has opened the exhibition of young Azerbaijani artists within the IV Moscow International Biennale for Young Art. The exhibition project is presented by YARAT! Contemporary Art Space founded by Aida Mahmudova.
The Moscow International Biennale for Young Art is one of the biggest projects in the field of contemporary art.
The Modern Art Museum puts on display works by artists from five countries - Azerbaijan, Pakistan, Thailand, Ukraine and the Czech Republic. Each work is placed in the special national pavilion.
This year, the famous British exhibition organizer David Elliott is the chief curator of the Biennale that is held under the theme "Time to dream".
The exhibition presents paintings, installations, and collage works of Azerbaijani artists Emin Ezizbeyli, Tahmina Ali, Farhad Farzaliyev, Lala Gasim, Sitara Ibrahimova, Samir Salakhov, Zamir Suleymanov, Elturan Mammadov, Fidan Seyidova, Agil Abdullayev, Nasrin Mammadova.
The Biennale's theme was not selected accidentally. Going from one pavilion to another creates a feeling of dreaming in the visitor. And despite the difference of all the projects, they - like a puzzle- create a notion of the contemporary young art.
The chief curator of the Azerbaijan's exhibition Naila Allahverdiyeva noted that there is no pathos of pursuing national identity in the works of the contemporary artists of Azerbaijan.
"Young artists from Baku focus their attention on the everyday life - the space of personal identification, personal history and the intimacy of nature. I think this show is focused more on the Moscow's audience, rather than Baku's," she underlined.
Artist Arseny Sergeyev said "The exhibition is a completely new way of showing the specificity of Azerbaijani culture. The artists, whose works are presented today, view themselves the people of the world and European civilization. In fact, Azerbaijan is a space where different cultures come together."
Executive Director of YARAT! Farid Abdullayev thanked on behalf of Aida Mahmudova, the organizers for the opportunity to show the young Azerbaijani art, and talked about the activities and projects of the Art Space.
Based in Baku, YARAT realizes its mission through an on-going program of holding exhibitions, education events, and festivals. YARAT facilitates dialogue and exchange of views between local and international artistic networks, including foundations, galleries, and museums.
Visitors can see the works of the young contemporary artists in Moscow until August 10.
Related News