9 July 2014 09:40 (UTC+04:00)
1 870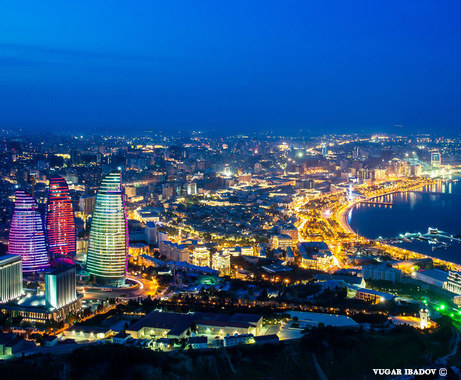 By Nazrin Gadimova
An original project called "The World from Dawn till Dusk" will be organized in Baku on August 21 - September 7, the project organizers said.
Initially organized by masters of Polish documentary movie Mirosław Dembinski and Maciej J. Drygas, the project will be implemented based on the seminars held for film schools students and young filmmakers from all over the world.
Under the supervision of their teachers, the participants of the project will work together on a collection of short documentaries within a few weeks, and then, a 60-minute anthology describing the life of the city will be made out of them. In each city the project consists of four stages.
The first stage includes presentation of the films of the "Polish documentary film school" - at this stage, workshop participants get acquainted with works of their teachers.
The second stage includes educational workshops: shooting short films, which will be included in a one film. Every young filmmaker chooses one hour from the city life and takes a short documentary lasting 3-4 minutes. These short films are designed to show the city from dusk to dawn.
The third stage includes screening of the films, and the fourth - demonstration of the films in different countries around the world at film festivals and television.
The "Azanfilm" studio is the Azerbaijani partner of the "The World from Dawn till Dusk" project. Presentation of the project and the first workshop was held in the "Nizami" cinema center on June 26.
"The World from Dawn till Dusk" is a film educational project for young documentary filmmakers. A group of famous Polish documentary makers: Marcel Lozinski, Jacek Blawut, Vita Zelakeviciute, Pawel Lozinski, Jacek Petrycki, Rafal Listopad, Mateusz Werner, Maciej J. Drygas and Miroslaw Dembinski will run a three week workshop for dozens of young film makers, during which a documentary film will be made.
The workshop and the works on the film will be run according to the method initiated by Drygas and Dembinski and used during their classes at the Lodz Film School. The method was applied during the first edition of the international project "The World from Dawn till Dusk 2011" (Minsk, Moscow, Kiev, Tokyo and Beijing).
Working with the Polish filmmakers is a great opportunity for the young participants to find out more about individual works of each tutor. The workshop teaches them how to perceive the world in a more sensitive way, how to understand it in a better way and finally how to present it.
The city is the main protagonist of the film being made by all the workshop participants. Using the observation method, they observe seemingly meaningless events in the lives of the city inhabitants. But through filmmakers' personal interpretations, the stories assume a new meaning and become special. When put together in one long film they create a universal metaphor.
Related News