18 March 2014 16:11 (UTC+04:00)
1 589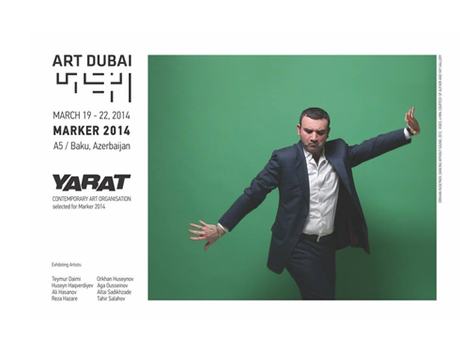 By Nigar Orujova
YARAT Contemporary Art Space will participate in a curated gallery programme at stand A5 on March 19-22.
Curated by the artists Slavs and Tatars, "Marker, Art Dubai 2014" takes Central Asia and the Caucasus as its focus, and intends to celebrate the complexities of faith, identity, and language in the region.
Marker focuses on a particular theme or geography each year, accentuating Art Dubai's role as a fair of discovery and a site for the production and exchange of knowledge and ideas.
Marker 2014 includes five booth exhibitions and dynamic educational and research initiatives.
Works have been selected to include artists born throughout the 20th century, creating an exhibition that spans three generations of art.
Artists, born in the 1920s and growing up under the paradigm of socialist realism in the 1950s and 60s, are set alongside those who matured after Azerbaijan's 1991 independence and test new boundaries in art through use of new media and ideas.
Azerbaijani participants
Yarat's exhibition includes video, painting, mixed-media, and sculpture. Artists Orkhan Huseynov, Altai Sadikhzade, Ali Hasanov, Aga Ousseinov, Teymur Daimi, Huseyn Haqverdiyev, Tahir Salahov, and Reza Hazare will contribute works that cover subjects as diverse as collective memory, traditional dance, landscape, and musical performance.
Works by Ali Hasanov, Orkhan Huseynov, and Reza Hazare will shed light on the emerging contemporary artists of Azerbaijan.
Huseynov's film "Dancing with No Sound" (2011) recalls traditional dances set in silence, while Ali Hasanov's film "Arsenium" (2012) is a tribute to the first performance of the "Symphony of Sirens" in Baku by avant-garde Russian composer and theorist Arseni Avraamov.
Hazare's work follows a tradition of Azerbaijani painting and draftsmanship, but, as an Afghan refugee living in Baku, Hazare has imbued his work with nostalgia and criticism of his Afghan heritage.
Tahir Salahov, the oldest practicing artist in the exhibition, became part of an accepted movement in the 1960s Soviet Union, spurred by the loosening of artistic control after Stalin's death in 1953.
Using a sparse, high-contrast palette and angular brushstrokes, Salahov's work is renowned for unpolished depictions of Azerbaijani citizens.
Part of the next generation of artists, Altai Sadikhzade, Teymur Daimi, Huseyn Haqverdiyev, and Aga Ousseinov show works in a variety of materials signifying the experimentation permitted to artists maturing in the late 20th century.
Ousseinov draws influence from early scientific research, diagrams, and maps from Islamic and European culture to make mixed-media compositions, while Daimi's films explore corporeality and the surreal.
YARAT's participation in Marker is part of YARAT's ongoing programme of international projects and its mission to create a platform for Azerbaijani art in international arena.
Founded in 2011 by Aida Mahmudova, YARAT is a non-profit organization dedicated to nurturing an understanding of contemporary art in Azerbaijan and creating a platform for Azerbaijani art, both nationally and internationally.
Based in Baku, YARAT ("create" in Azerbaijani) realizes its mission through an ongoing program of exhibitions, education events, and festivals. The organization facilitates dialogue and exchange between local and international artistic networks, including foundations, galleries, and museums.
Related News