21 February 2014 15:00 (UTC+04:00)
1 804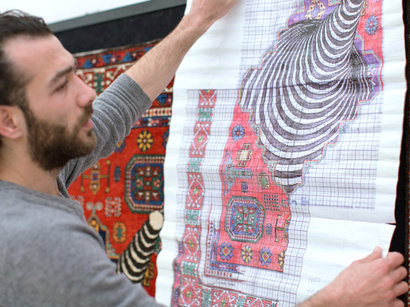 By Nigar Orujova
Carpet is one the most recognizable symbols of Azerbaijan. Colorful and vivid Azerbaijani carpets are believed to be an indispensable part of every Azerbaijani's live. From a very childhood, the carpet follows each of us from the cradle to grave.
The art of carpet weaving is one of the ancient industries in the country. For centuries, the "Land of Fire" has been famous for its unique carpet schools.
The traditional image of national carpet is close to every Azerbaijani's heart. Going beyond the current borders of carpet weaving art has been a big challenge for those involved in the industry. Today, a young artist has decided to break the rules. The results are pleasantly shocking.
Faig Ahmed, 31, sculptor by occupation, is working by various media, including painting and video to give a new image to the ancient carpets.
"Reactions of viewers to changes to a familiar thing like carpet have been interesting," he said.
These reactions to things that are close and dear to hearts and things that have been stable and unchanged for generations really encouraged the talented artist.
He has used a stable tradition to express his generation's views. To do so, he had to make changes to the tradition, the project he has successfully pressed ahead in recent years.
At present, he is studying the artistic qualities of Azerbaijani traditional rugs. He seeks to combine tradition with contemporary art, which is a novelty not only in Azerbaijan, but also in the world. This is a hard challenge, but it worth trying.
Now, Faig is one of the well-known contemporary artists in Azerbaijan who have held exhibitions in famous centers like Venice Biennale, Moscow National Center of Contemporary Art, Kunsthalle im Lipsiusbau in Dresden.
His searching for new artistic forms started with a bit childish question "What is inside?" This question led Faig to combine explorations with profound imagination.
Deep analysis combined with self-reflection has led to a new genre called "actual tradition", which seeks to change our habitual and visually stance towards anything around us.
"You need to do what no one did before to create something new. It is always difficult. Because when you leave behind the rules, society will either accept or reject you. It is like gliding over the abyss," he said.
By disassembling conventional structures and randomly rearranging traditional design, he combines the classic parts with contemporary forms. He expresses himself not only by designing new carpets, but also carpet installations and even sculptures.
The first and more rigorous audience of the Faig's ideas is weavers of his carpets, who are still suspicious of this modern art. They neither accept nor understand it.
However, guests of Faig's exhibitions, which are held around the world, are more flexible to this new tradition, which gives a rousing cheer to new more riotous designs.
Faig said his voguish carpets adorn private houses in many countries traveling beyond museums of Azerbaijan, USA and UK. Quite possibly, these groundbreaking carpets will form a new tradition in Azerbaijan in near future.
Related News