Berlin hosts concert marking 100th anniversary of National Leader Heydar Aliyev [PHOTOS]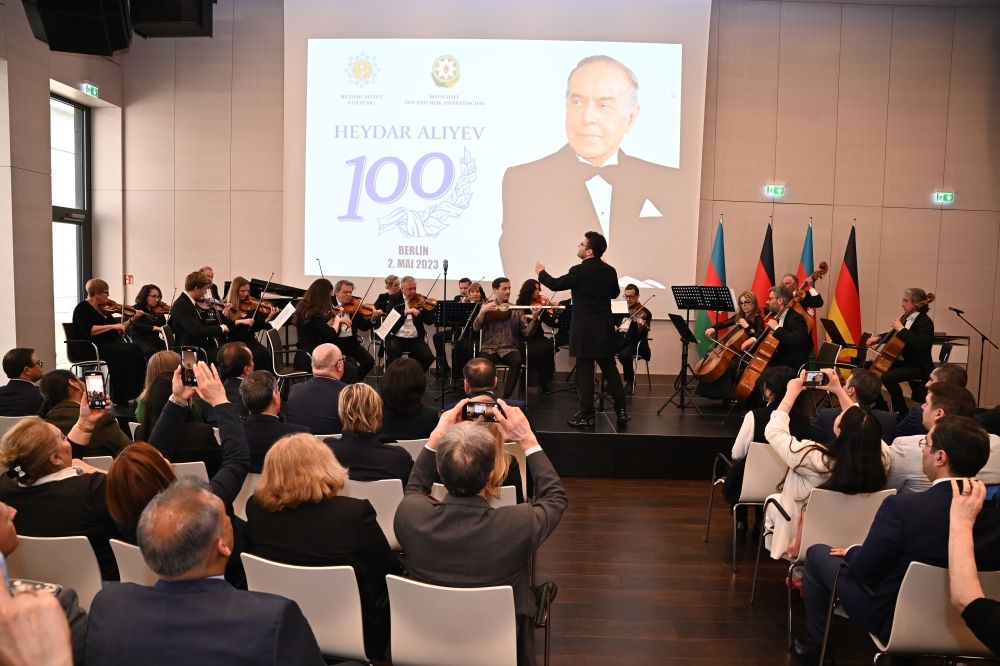 Azerbaijan Cultural Center in Berlin has hosted an event, marking the 100th anniversary of the National Leader Heydar Aliyev, Azernews reports.
Organized by the Azerbaijani Embassy in Berlin and supported by the Heydar Aliyev Foundation, the event gathered the high-ranking representatives of German state institutions, ambassadors, media representatives, science and culture figures, as well as members of Azerbaijani, Turkish and other communities living in Germany.
First, the audience watched a film about the National Leader Heydar Aliyev.
The Azerbaijani Ambassador to Germany Nasimi Agayev welcomed the guests of the event.
In his speech, he pointed out that the National Leader Heydar Aliyev was deeply knowledgeable, courageous, a politician with a high national spirit who fought for his principles, and a great statesman who wrote his name in golden letters in the history of the world and Azerbaijan.
He noted that Azerbaijan got rid of the serious problems it faced in the first years of its independence as a result of Heydar Aliyev's wise and visionary policy and entered the period of development and progress.
Emphasizing that Heydar Aliyev's biggest dream was the restoration of the Azerbaijan's territorial integrity.
Nasimi Agayev outlined that this dream came true in 2020 under the leadership of the Supreme Commander-in-Chief, President of Azerbaijan Ilham Aliyev.
Member of the working group for Azerbaijan-Germany inter-parliamentary relations and head of the International Relations Department at the Heydar Aliyev Foundation, MP Soltan Mammadov informed the guests about the foundation's activities to promote the country`s national and cultural heritage and its projects in the fields of science, education, health, multiculturalism, etc.
Chairman of the German-Azerbaijani Forum Hanns-Eberhard Schleyer hailed Heydar Aliyev's role in the establishment and development of relations between Azerbaijan and Germany. He emphasized that bilateral ties are developing dynamically in modern times.
Following the speeches, spectacular concert was presented to the audience under the baton of the Honored Artist Ayyub Guliyev,
Vocalist Marziya Huseynova of the Rhine German Opera, Honored Artists, singer Tayyar Bayramov and tar player Sahib Pashazade performed works by well-known Azerbaijani and European composers
Within the framework of the event, the participants got acquainted with the exhibition dedicated to the 100th anniversary of National Leader Heydar Aliyev.
---
Follow us on Twitter @AzerNewsAz