WB forecasts growth in Azerbaijan's GDP during 2017-2018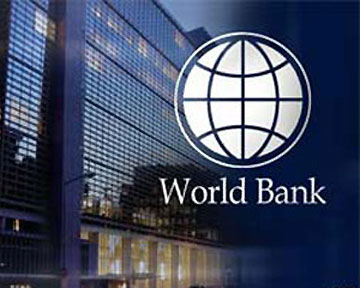 By Fatma Babayeva
The World Bank projected growth in Azerbaijan's gross domestic product (GDP) at 1.3 percent in 2018 in its June 2016 Global Economic Prospects report released on June 8.
The WB expects Azerbaijan's GDP to grow by 0.7 percent in 2017 in the updated report.
In 2016, Azerbaijan's economy will shrink by 1.9 percent, according to the bank's forecasts.
At the same time, economic growth in countries of the region of Europe and Central Asia (where the WB includes Azerbaijan) will amount to 1.2 percent in 2016, 2.5 percent in 2017 and 2.8 percent in 2018, according to the bank's June 2016 report.
In particular, Georgia's GDP growth in 2016 is projected at three percent (given 4.5 percent and five percent growth in 2017 and 2018, respectively), Kazakhstan - 0.1 percent, Kyrgyzstan - 3.4 percent, Tajikistan - four percent, Uzbekistan - 7.3 percent, Turkmenistan - five percent, Turkey - 3.5 percent and Ukraine - one percent.
GDP is expected to decline in Russia and Belarus by 1.2 percent and three percent, respectively.
The bank stated in its report that continuing low oil prices, a deeper than expected recession in Russia, political polarization in a number of countries, as well as, the Syrian refugees issue are the key risk factors for the region.
Nevertheless, the WB previously predicted 2.6 percent growth of the GDP in Azerbaijan in 2016 and 2.7 percent in 2017
Earlier, Asian Development Bank (ADB) projected in its Outlook 2016 that was released in March that Azerbaijan will see 1 percent rise in its GDP in 2017.
The ADB forecasted that the low oil prices in 2016 may lead to a decrease by one percent in GDP, but the expected recovery in oil prices will cause it to grow by one percent in 2017.
The International Monetary Fund (IMF) also forecasted Azerbaijan's economic growth at 1 percent in 2017 in its World Economic Outlook published in April.
In addition, Moody's Investors Service estimated real GDP growth rate to slow down to 1.7 percent in 2016 from 2.8 percent in 2015 in Azerbaijan.
Moody's expects Azerbaijan's GDP to accelerate to around 3 percent during the period of 2017-2019.
Moreover, International ratings agency Standard & Poor's projected the GDP growth by 2 percent in Azerbaijan in 2017, 4 percent in 2018, and 4.5 percent in 2019.
The European Bank for Reconstruction and Development was also optimistic about the real growth rate of the GDP in the country, predicting it to reach 2.5 percent.
The State Statistics Committee of Azerbaijan, however, reported 5.6 percent decline in GDP per capita of the country for January to April 2016, compared to the same period of 2015.
---
Fatma Babayeva is AzerNews' staff journalist, follow her on Twitter: @Fatma_Babayeva
Follow us on Twitter @AzerNewsAz