Azerbaijan encourages foreign investors in non-oil sector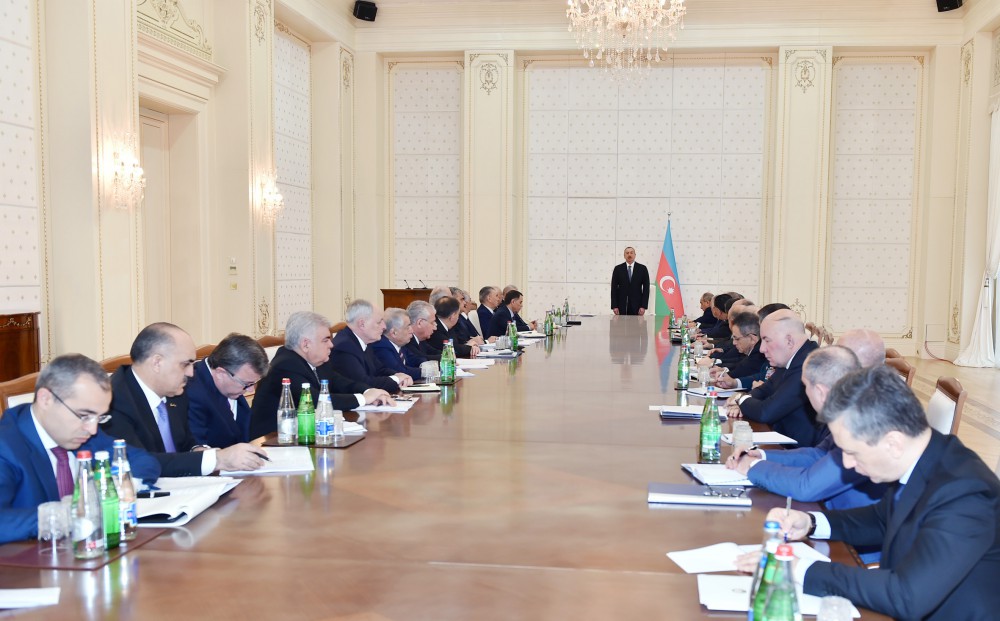 By Nigar Orujova
Azerbaijan plans to minimize its oil dependence, which requires ensuring growth of non-oil sector of economy and increasing the volume of foreign investment in this field.
President Ilham Aliyev set this goal at a meeting of the Cabinet of Ministers, dedicated to the social and economic development in 2015 and the objectives for the future, on January 10.
The young oil producing country that skim the cream off the natural wealth now faced with the low prices of the "black gold" on the markets of the world. In this situation, the country, that still has gas alternative, plans to switch to the non-oil sector of economy in order not to be dependent on the hydrocarbons in the future.
The oil gave Azerbaijan a lot, but it is a high time to welcome something new.
Last year, GDP of the country has increased by more than one percent, industrial production rose by 2.4 percent and non-oil industry grew by 8.4 percent.
Moreover, the 8.4-percent growth in the non-oil industry is the main achievement of the country in 2015. Last year, the Azerbaijani economy received about $20 billion of investments, half of which are foreign investments, which is a positive factor.
The World Bank predicts that economic growth in Azerbaijan will amount to 0.8 percent this year and 1.2 percent in 2017, while forecast for global economy is 2.9 percent growth in 2016 and 3.1 percent in 2017.
"Azerbaijan, as an attractive country, and presents its potential to foreign investors," the president said in his address.
Today, many investors are looking for a new economy, and Azerbaijan should also determine its niche in the global economy.
However, it would be not so easy, as there are great many candidates striving for the foreign investments and Azerbaijan should fight for its place in the sun.
What attracts investors? A well-developed infrastructure and favorable conditions for the investment climate is needed to attract investors.
What Azerbaijan has made in this direction? Recently, the state has made major investments in the development of marine, railway, automotive, utilities, and social infrastructures. Moreover, some bureaucratic hurdles were abolished.
As a result, the country is now eye-catching for transportation, which means great revenue for the investors.
The favorable geographic location promises expansion of transport routes, which will further increase the country's attractiveness to investors in terms of easy delivery of products made in Azerbaijan to other markets.
Transportation plays a leading role, while Azerbaijan has also other promising spheres.
One of them is industrial parks that offer seven years work opportunity without paying income tax, land tax and property tax. In addition, equipment and technology used in such parks are not subject to VAT.
The tax burden in Azerbaijan is not high either. The country is also reviewing proposals to stimulate exports.
Industrial parks have been created already in Sumgayit, Balakhani, Garadagh and Mingachevir. Another park, specializing in metallurgy, will be created in Ganja.
In addition, Azerbaijan has available specialized personnel not only in the oil and gas sector, but also other industrial areas.
Along with easy transportation, lack of export duties in Azerbaijan also allows a minimum cost to enter foreign markets.
Moreover, the country has recently facilitated operation of SMEs by reducing the number of licensed activities and halving the amount of duty, simplifying the taxation, and suspending inspections for two years.
Last but not the least, investment in Azerbaijan in the current economic situation is also advantageous because of the low rate of the national currency.
"Azerbaijan is an excellent country for foreign investments and that foreign investments are being protected here," President Aliyev assured.
__
Nigar Orujova is AzerNews' staff journalist. Follow her on Twitter: @o_nigar
Follow us on Twitter: @AzerNewsAz