Azerbaijan to develop agricultural co-op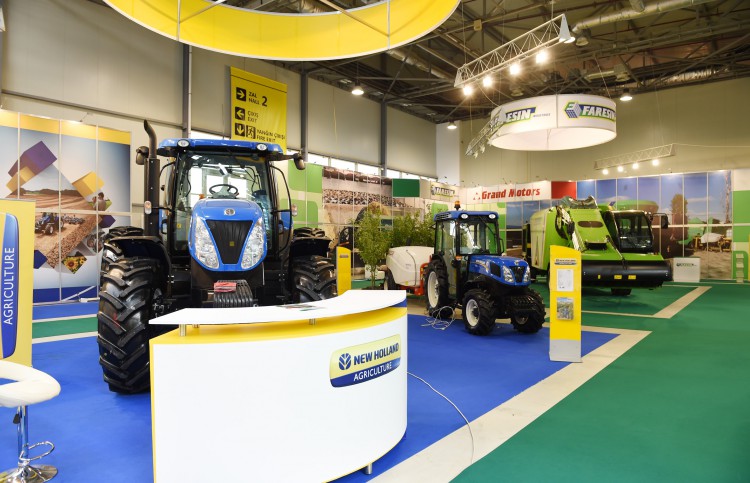 By Nigar Orujova
Today the priority for agriculture is sustainable food security for population, as well as improving competitiveness of all agricultural products.
This statement came from Azerbaijan's Agriculture Minister, Heydar Asadov at the opening ceremony of the 9th Azerbaijan International Exhibition Agriculture and the 21th Azerbaijan International Exhibition Food Industry in Baku on May 21.
Traditional Azerbaijan International Exhibitions Agriculture and Food Industry will be held in Baku on May 21-23. The organizers of the exhibitions supported by the Agriculture Ministry are the companies Iteca Caspian and its partner from the UK - ITE Group Plc.
This year, the exhibition includes a total of 293 companies from 39 countries, 83 of which are from Azerbaijan. The number of participating countries and companies increased in comparison with last year.
The exhibition will present national stands for Argentina, Australia, Belarus, Georgia, Lithuania and Poland. Two countries - Jordan and Algeria - will make their debut a the exhibition.
Belarus is ready to develop cooperation with Azerbaijan in the field of agriculture, said Vladimir Semashko, the Belarusian deputy prime minister, at the ceremony.
Scientific institutions of Belarus are ready to share their knowledge and achievements in this area with their Azerbaijani colleagues, he added.
"We are ready to share our knowledge and achievements in the use of bio-pesticides and biological preparations for plant protection from diseases, as well as introduce our Azerbaijani colleagues to biological products for cleaning and reclamation of soil, including pollution by oil and its derivatives," he said.
Semashko noted on the importance of agricultural areas for bilateral relations between Azerbaijan and Belarus as per noted by the presence of a Belarusian national stand at the exhibition, in Baku.
"The exhibition area of Belarus presents product samples from more than 60 national companies in all areas of agriculture," he said.
In conclusion, the deputy prime minister said that Belarus is delighted with the achievements and successes of Azerbaijan in the field of agriculture, and expressed hope that the agricultural sector of the country will continue its development.
"Stavropol region also expressed its willingness to expand cooperation with Azerbaijan in the field of agriculture," First Vice Prime Minister of Stavropol, Nikolai Velikden said at a meeting with a business mission of Russian companies, organized by the Company "Russian Agency for the Insurance of Export Credits and Investments" in Baku.
He said the trade turnover between Azerbaijan and Stavropol is around $250-270 million, adding that this figure should increase.
Velikdan noted that the goods turnover between Stavropol and Azerbaijan mainly includes grain and industrial crops, fertilizers, breeding animals, as well as fruit crops and grapes.
In the past two years, Azerbaijan has imported seeds of grain, fodder and vegetables from Stavropol, he added. "We believe these areas to be a priority, and they will retain their importance after the establishment of joint ventures in this field both in Azerbaijan and in the Stavropol region."
He noted that the establishment of joint ventures is very important as it can remove a number of barriers, such as customs. "I believe that we will come to a common denominator in the expansion of economic cooperation," said Velikdan.
The Russian Agency for the Insurance of Export Credits and Investments company intends to expand its support for Russian business in Azerbaijan, said Dmitry Kunakov, executive director of the International Cooperation at EXIAR.
The Russian agency has supported three projects in agriculture, with a total value of $16 million, and intends to continue to develop support for the agricultural sector of Azerbaijan, he added.
--
Nigar Orujova is AzerNews's staff journalist, follow her on Twitter: @o_nigar
Follow us on Twitter @AzerNewsAz