Azerbaijan ready to increase export of agricultural products to Russia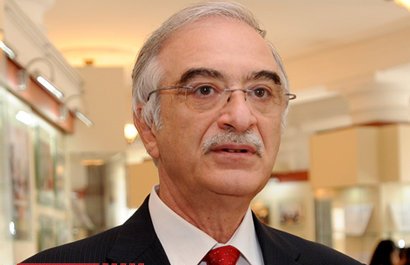 By Aynur Jafarova
Azerbaijan is ready to rapidly increase export of agricultural products to Russia with a guarantee that the products would be bought, Azerbaijani Ambassador to Russia Polad Bulbuloglu said at a press conference on September 18, ITAR-TASS reported.

He also noted the export would not be limited to only fruits and vegetables, but also poultry, eggs, and other products.

"Azerbaijan is totally self-sufficient and we are ready to rapidly boost the volume of our export," the ambassador said. "However there needs to be a guarantee that the products would be bought even in case of lifting the sanctions."

"The main problem is that the producers and entrepreneurs are afraid of administrative barriers, and long customs clearance, because the agricultural products are perishable goods," the diplomat said.

Bulbuloglu said, first it is necessary to create "normal conditions for private entrepreneurs so that the administrative obstacles don't make extra problems."

"Exactly these mechanisms need to be rectified," the ambassador stressed.

"There is a saying which reads: Eevery cloud has a silver lining. Maybe this political situation will assist to ensure that both Russian producers and Russia's neighbors and its long-term partners increase their production," he added.
Bulbuloglu went on to speak about the strategic partnership between Moscow and Baku.
"Despite all sanctions, Russia is our neighbor and this is a fact of life and history," Bulbulogly said. "We have been together for more than 200 years. There are strong bonds linking us. Russia is home to a large Azerbaijani community."
The Azerbaijani ambassador pointed out that his country had not closed down a single Russian school.
"We have a local branch of Moscow State University and we have established a Slavic University," he said.
The ambassador also said Azerbaijan is ready to consider the possibility of participation in organizing the supply of Iranian oil to Russia under the model of trilateral swap-agreement.
In his remarks Sergei Markov, a member of the Public Chamber of the Russian Federation on the development of public diplomacy and the support of compatriots abroad, said Russia and Azerbaijan can develop cooperation in the energy and agricultural sectors.
"Azerbaijan is a rapidly developing country," he said. "All this creates the preconditions for the development of economic relations on a new basis."
Markov also noted joint projects on cooperation in oil production in the Caspian Sea have great prospects.
"We are ready to expand our military-technical cooperation with Azerbaijan, in particular, to sell the latest weapons systems," he added. "Azerbaijan receives them as a strategic partner and a friendly country."
Markov mentioned great prospects of exports of Azerbaijani agricultural products to Russia due to the imposition of sanctions. He expressed hope that "in the course of consultations on the governmental level we can reach a significant increase in supply of Azerbaijan's agricultural products to the Russian market."
Markov also spoke about the current cooperation between the two countries in the tourism sector. He said Russia is interested to see more Russians visiting Azerbaijan.
"Low-cost airline can be taken as a basis, and then a growing number of Russian tourists will be able to see Azerbaijan," he noted.
Bulbuloglu, for his part, said Azerbaijan has created all favorable conditions for tourists, in particular four-star and five-star hotels.
Russia is the main trade partner of Azerbaijan in the CIS. It also ranks first among the countries importing goods from Azerbaijan.

Currently, there are 570 companies with Russian capital in Azerbaijan. Russia has recently invested $628.4 million in Azerbaijan's fixed capital. But Azerbaijan's investment in the Russian economy for 10 years amounted to nearly $1 billion.