2 July 2013 14:30 (UTC+04:00)
1 437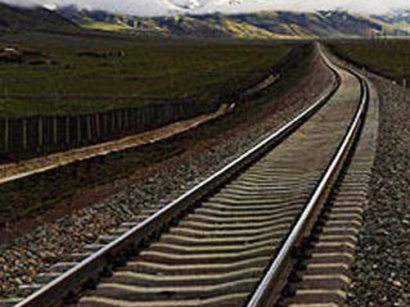 By Aynur Jafarova
A taskforce comprising representatives of Iran, Azerbaijan, Russia and India is working over the issue of building Rasht-Astara (Iran)-Astara (Azerbaijan) railway, Iranian Tasnim news website quoted Iran Railways administration official Mohammad Reza Mohammadi Arasi as saying.
The construction of the Qazvin-Rasht-Astara railway was discussed at the fifth session of the Coordination Council on the International North-South Transport Corridor which was held in Baku on June 24-25; participants noted the importance of constructing it over a short timeframe.
"There is a railway from the Iranian Bandar-Abbas port to the Qazvin city. The construction of the Qazvin-Rasht railway should be completed in the first half of 2014," Arasi said.
According to him, the working group discussed the construction of the railway, investment in construction work and other issues. The results of the discussions will be introduced for making a decision at the next meeting of deputy foreign ministers of the four mentioned countries.
Iranian officials announced that the construction of Qazvin-Rasht-Astara railway will be completed in March 2014. This railway is very complicated and consists of 22 tunnels and 15 special bridges. 70 percent of work on the construction of 15 tunnels has already been completed, Arasi said.
The Qazvin-Rasht-Astara railway is part of the North-South Transport Corridor and the construction is implemented by Azerbaijan, Iran and Russia. Investment worth $400 million is designated for the construction operations.
The volume of cargo transportation through the corridor will amount to 6 million tons in the initial stage and will reach 15-20 million tons in the future.
The North-South Transport Corridor was established in 2000 by Iran, Russia and India to promote transport cooperation among the members. Later Azerbaijan, Armenia, Kazakhstan, Kyrgyzstan, Tajikistan, Turkey, Ukraine, Belarus, Oman, Syria and Bulgaria joined the corridor.
Total length of the North-South corridor is 7,200 km and it aims to transport passengers and cargo from India and Persian Gulf to northern and western Europe through Azerbaijan and Russia.
Earlier Iranian Ambassador in Baku Mohsen Pak-Ayeen said that the volume of trade transactions between Iran and Azerbaijan will increase after the Qazvin-Rasht-Astara railway is launched.
Related News